You are here: Home
HDLM-2
Our Promise to You
Guaranteed product quality, expert customer support
HDLM-2
Specification
Technical Resources
Recommended Products
Description
Established from the pleural effusion of a 74-year-old man with Hodgkin lymphoma (nodular sclerosing, stage IV) in 1982
Culture Properties
suspension
Morphology
single, round to polygonal cells in suspension; heterogeneity in cell size, 15-100 μm or larger; many bi- and polynucleated cells
Images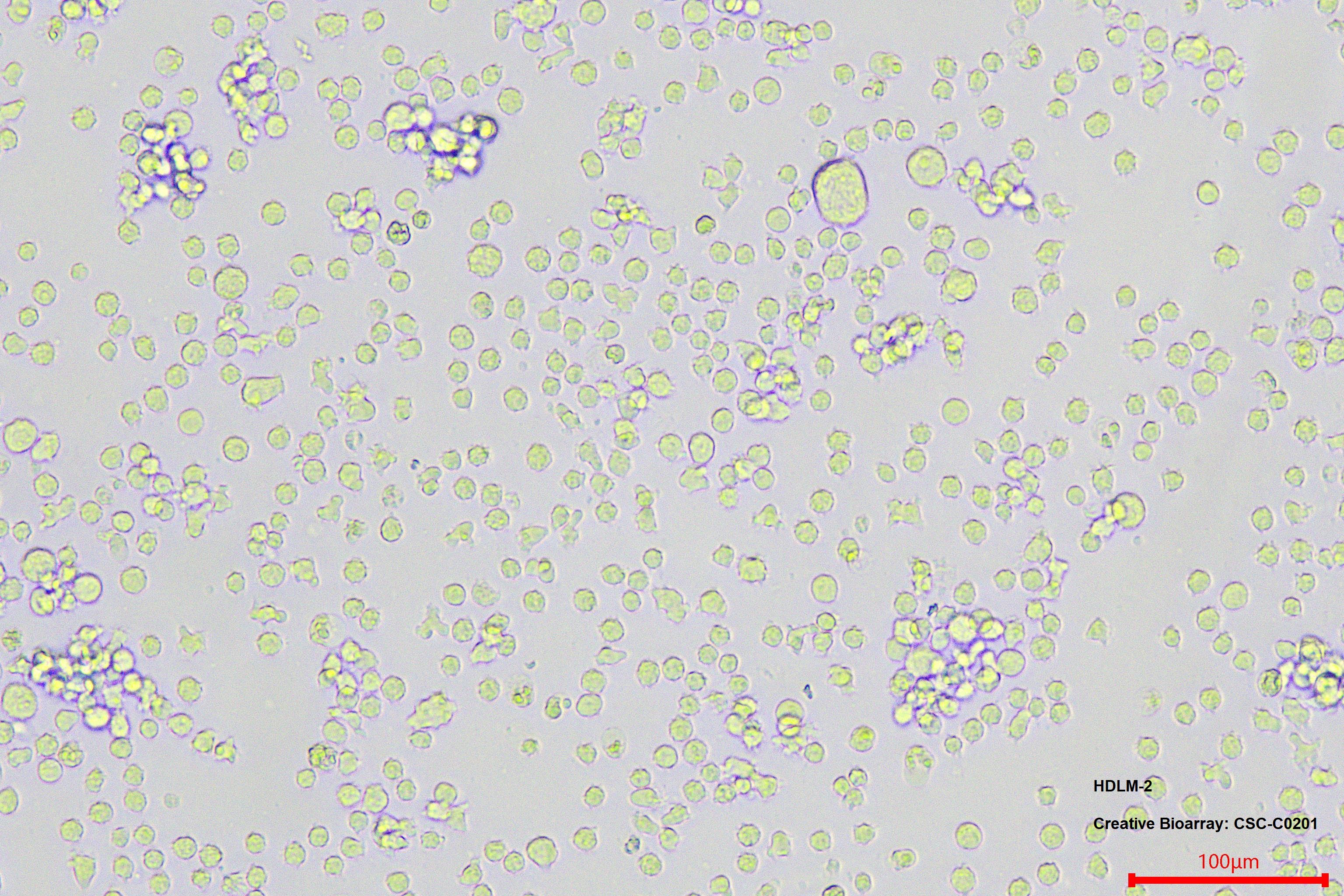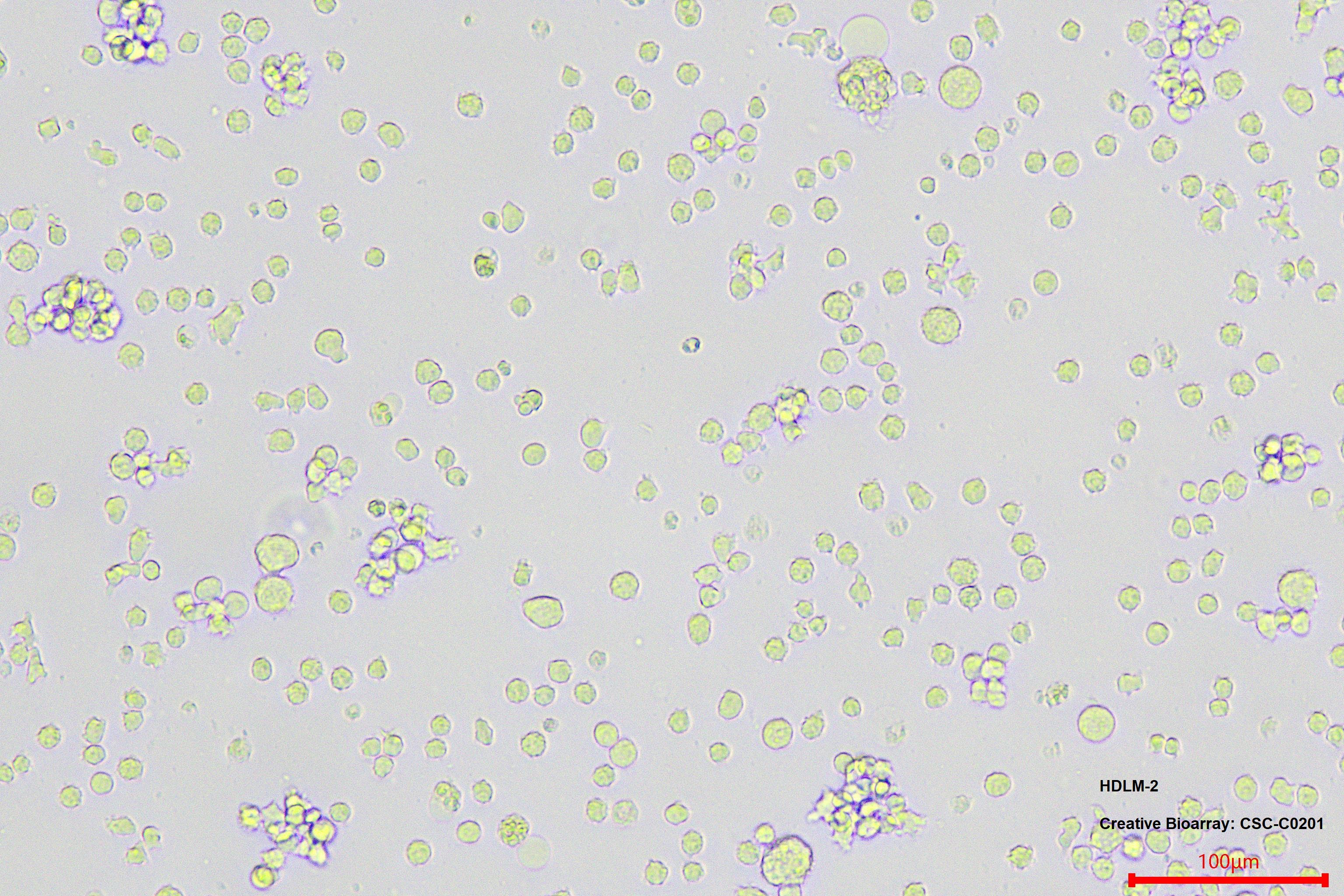 STR DNA Profile
Amelogenin X,Y
CSF1PO 11,12
D5S818 11
D7S820 8,10
D13S317 11,12
D16S539 12
TH01 6,7
TPOX 8
vWA 19
Karyotype
Remarkable human hypodiploid cell line with large number of rearrangements involving all chromosomes except ch 10 - 36(35-38)<2n>X, der(Y), breakpoints at: 1p21, 1q11, 2p14, 2q37, 3q21, 3p14, 3q11, 3q25.2, 3q27, 4q25, 5q11, 5q35, 6q15/16, 7p14, 8q21.1, 8q
Markers
CD2 +, CD3 -, CD4 (+), CD13 -, CD14 -, CD15 +, CD19 -, CD21 -, CD25 +, CD30 +, HLA-DR +
Sequence Variations
TP53 p.Ser261fs c.?(782delins)
Applications
a. Hodgkin lymphoma related reserach
b. Cell-Based assay
c. In vivo efficacy study
Quality Control
Mycoplasma: Fluorescence (DAPI) test: negative; Mycoplasma specific PCR: negative; Selective biochemical test: negative
Viruses: ELISA: reverse transcriptase negative; PCR: EBV +, HBV -, HCV -, HHV-8 -, HIV-1 -, HIV-2 -, HTLV-I/II -, MLV -, SMRV -
Storage and Shipping
Ship in dry ice.
Store in liquid nitrogen.
BioSafety Level
BSL–1
Biosafety classification is based on U.S. Public Health Service Guidelines, it is the responsibility of the customer to ensure that their facilities comply with biosafety regulations for their own country.,
Citation Guidance
If you use this products in your scientific publication, it should be cited in the publication as: Creative Bioarray cat no.
If your paper has been published, please click here to submit the PubMed ID of your paper to get a coupon.
Product Sheets

Datasheet
No 'Material Safety Data Sheet' available yet
For research use only. Not for any other purpose.
Q & A
Customer Review
Product Information Sheet
Q:
What determines cell viability?
A:
Cell viability assays use a variety of markers as indicators of metabolically active (living) cells. Examples of markers commonly used include measuring ATP levels, measuring the ability to reduce a substrate, and detecting enzymatic/protease activities unique to living cells.
Average Rating: 5.0 | 1 Scientist has reviewed this product
" High-quality "
Review: I am extremely gratified with my purchase. The provided tumor cell products are outstanding and unsurpassed in purity and efficiency.
Review date: 14 Feb 2023.

Ease of use
After sales services
Value for money Write your own review

HDLM-2
Customer Support & Price Inquiry