You are here: Home
Respiratory Toxicity
Respiratory Toxicity

For every breath we take, air passes through the mouth and/or nasal cavity and then through the trachea, bronchus, and bronchioles before entering lung, where gas exchange occurs. However, many inhaled toxins bypass these defense mechanisms of lung, or become activated by the metabolic enzymes, leading to pulmonary toxicity and acute injury to the lung epithelia. Proper identification of potential respiratory toxins and irritants is important to numerous industries, including chemical, personal care, and pharmaceutical industries.
Many respiratory toxicity identification methods have been established in the past, such as human research, and animal study. However, pulmonary research in humans is obviously limited due to the human and ethics issues; and for whole-animal inhalation studies, significant cost and time considerations are associated.
Nowadays, an improvement has been made by using three-dimensional (3D) human derived respiratory tissue model to predict the respiratory toxicity of compounds and chemicals. These tissues exhibits human relevant tissue structure and cellular morphology with high uniformity and reproducibility, and allows for in vitro respiratory toxicity testing of compounds such as pathogens, chemicals or therapeutics.
With over 10 years' experience of working on cell & tissue products and services, Creative Bioarray provides in vitro airway tissue model and in vitro respiratory toxicity test to help chemical, personal care, and pharmaceutical industries to evaluate respiratory toxicity potential for their chemicals and products.
Your Needs
You are looking for in vitro airway tissue model for your researches?
You wish to evaluate respiratory toxicity potential for your ingredients, products or chemicals?
You'd like to find a customized service related to respiratory toxicity?
Our Capability
In vitro 3D Models Available
In vitro airway tissue model

- Creative Bioarray's in vitro airway tissue model could be applied to in vitro respiratory toxicity testing, it is very similar to in vivo airway mucosa in terms of morphology, of differentiation markers and of functional characteristics.

Ex vivo airway tissue model
Respiratory cells and lung cells
Assays available
Cytotoxicity test: Assessment for the presence of leakage markers such as lactate dehydrogenase (LDH) or adenylate kinase (AK), two hallmark leakage markers.
Tissue viability test: MTT assay, WST-8 assay, and ATP content assay.
Histology assessment: Histological assessment of stained tissues is available, with focused viability determinations possible.
Contact us about your custom evaluation requirements.
Assay Examples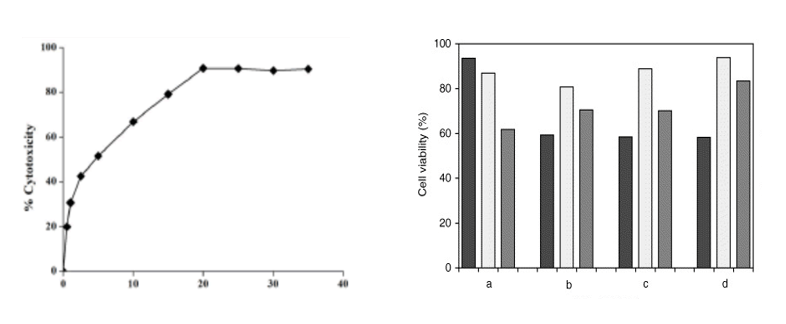 Fig.1 (a) Cytotoxicity test; (b) Tissue viability test for different chemicals by using in vitro tissue model
Our customer service representatives are available 24hr a day! We thank you for choosing Creative Bioarray services!
For research use only. Not for any other purpose.