You are here: Home
In Vivo Blood-Brain-Barrier Assay
In Vivo Blood-Brain-Barrier Assay
The blood–brain barrier (BBB), a specialized interface between the peripheral blood circulation and the central nervous system, specifically regulates molecular and cellular flux between the two. It protects the brain microenvironment from the effects of toxins and pathogens in the circulation and maintains brain homeostasis. The main sites of the barrier are the endothelial cells of the cerebral capillaries, whose barrier function is based on the tight intercellular connections and extraneous transporters expressed on the plasma membrane.
The BBB restricts the entry of pathogens into the brain, and thus its permeability is a critical factor that determines their central effects. In addition, some neurological diseases, such as stroke, Alzheimer's disease (AD) and brain tumors, are related to impaired BBB function. Therefore, assessing BBB permeability is critical for assessing the severity of neurological diseases and developing drugs to treat neurological diseases.
Creative Bioarray has established a simple, reliable and efficient in vivo assay that has been successfully applied to several genetic and experimental mouse models.
Procedures for in vivo Blood-Brain-Barrier Assay
Compound concentration in blood and brain is measured from samples taken 0, 5, 10, 20, 60 and 120 min after intramuscular injection. For the control mouse, the solvent without compound is injected.
The mice are anesthetized by inhalation of isoflurane.
Right after anesthesia, blood samples are collected from the heart and brain and transfered into heparinized tubes.
The measurement of the compound concentrations in the blood and brain samples is initiated immediately following collection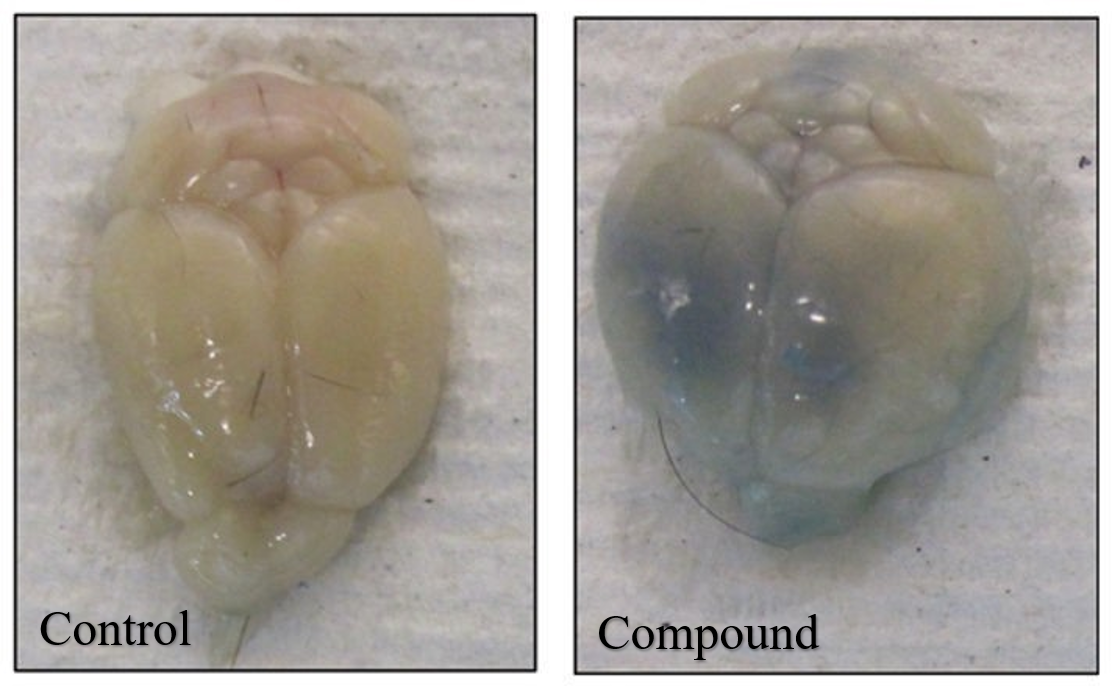 Figure. In vivo BBB model. Mice were inoculated with PBS or compounds dissolved in solutions via footpad
We provide two schemes for the above assay, which differs in terms of deliverable information and cost:
Basic scheme - Studies for 1 concentration
Extended scheme - Studies for several concentrations and more controls

Apart from in vivo BBB assay, we also provide In vitro Blood Brain Barrier Assay Service for the early stages of development, including MDCK-MDR1 cells model, BBB-PAMPA model and microvascular endothelial cells/astrocytes/pericytes model.
Creative Bioarray's animal facilities are AAALAC certified, USDA compliant. All tests comply with applicable good laboratory practices (GLP). We ensure to keep in contact during studies. If you have any special needs or questions regarding our services, please feel free to contact us to get support from our experienced experts.
For research use only. Not for any other purpose.