You are here: Home
In Vitro Permeability Assay Kits
Our Promise to You
Guaranteed product quality, expert customer support
In Vitro Permeability Assay Kits
Drug absorption is drugs' movement into the bloodstream. This process is influenced by many factors, including drugs formulation, physicochemical properties, and route of administration. Regardless of the route of administration, the drug must first be dissolved and absorbed before it can exert a therapeutic effect. By intervening in factors that affect drug absorption, its pharmacokinetic (PK) characteristics can be changed.
Drugs' permeability across biological membranes, epithelial cells, or endothelial cells is a critical factor that influences the absorption and distribution. Drugs may cross cell membranes through passive diffusion, facilitated passive diffusion, active transport, and pinocytosis. The drug's physicochemical properties (such as lipophilicity and molecular size), and membrane-based efflux, can lead to poor permeability.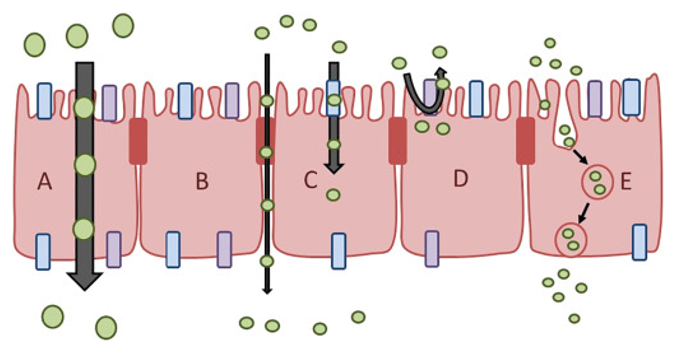 Figure 1. Schematic overview of different types of intestinal drug transport (Berben, 2018).
Creative Bioarray offers various ready-to-use in vitro permeability assay kits that allow clients to design and optimize their drug discovery studies according to their own research conditions.
Here are some of the in vitro permeability assay kits available from Creative Bioarray. Please do not hesitate to contact us for further requests.
Related Services
Reference
Berben, Philippe, et al. "Drug permeability profiling using cell-free permeation tools: Overview and applications." European Journal of Pharmaceutical Sciences 119 (2018): 219-233.
For research use only. Not for any other purpose.