Obesity is a chronic disease commonly caused by a combination of genetic, nutritional, and environmental factors. It is a risk factor for cardiovascular disease, diabetes mellitus, fatty liver disease, cancers, and asthma. So far, it has become the most growing public health issues. High fat diet-induced obesity is a model that simulates the features of obesity in human and it is suitable for the development of novel preventions and/or treatments.
Creative Bioarray focuses on drug research and development services and can help customers with evaluating the efficacy of drug candidates and studying the associated pathological mechanisms of obesity.
Species available
Our capabilities
The body weight (BW) and liver weight (LW) of animals from different group are calculated.
We examine heart damage and vascular morphology by H&E staining.
We test the levels of advanced glycation end products (AGEs), MDA, GSH as well as the activities of SOD and CAT by Elisa.
Assays available
Biochemical Analysis 
Pathological Evaluation
Body Composition Measurement
Blood Pressure
Glucose Tolerance Test
Insulin Tolerance Test
With extensive experience in the field of obesity, we are confident to help you overcome any upcoming challenges. Our experts are fully capable of customizing our protocols and assays to meet your specific needs. With our help, we wish to facilitate your research with high efficiency.
Study examples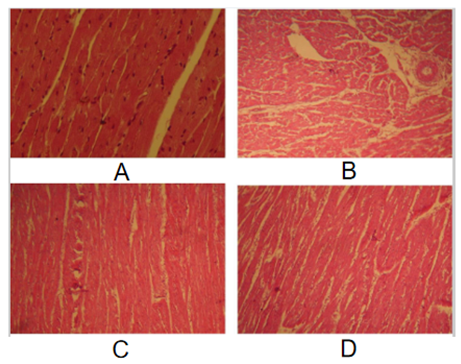 Figure. 1. Representative micrographs from the heart exhibiting the protective effect of methanol M. oleifera leaf extract (MEML) on high-fat diet-induced cardiac injury in rats. (A) Control groups showing normal cardiac architecture. (B) High-fat diet-treated group showing anarchized myocardial fibers associated with interstitial edema and inflammatory cellule collections. (C) High-fat diet group received MEML (200 mg/kg) showing repair in the histological sections. (D) High-fat diet group treated with MEML (400 mg/kg) showing normal structure almost similar to control. Heart sections were stained using hematoxylin-eosin method.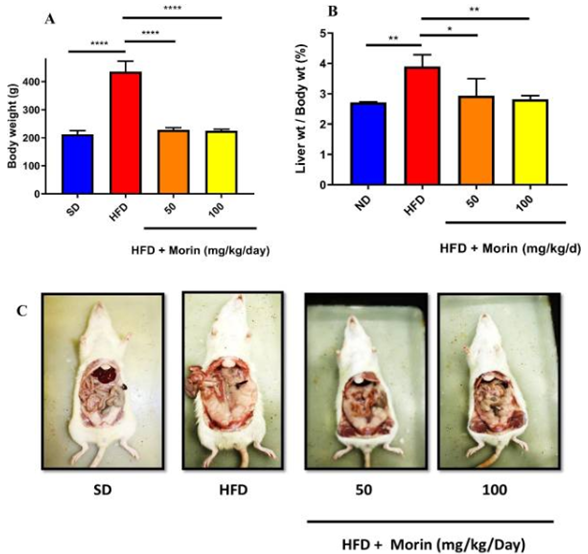 Figure. 2. Effect of morin on (A) Body weight (at the end of study) (B) Liver weight / Body weight ratio (C) Retroperitoneal fat content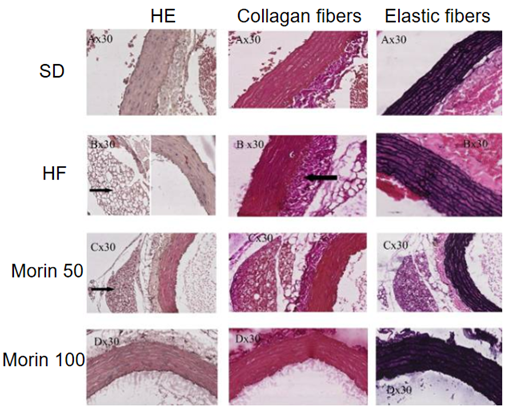 Figure. 3. Effect of Morin on histology of isolated rat aorta. Histological sections of the aortae of all animals were stained with hematoxylin and eosin (H & E) to study their general structures, whereas to investigate collagen and elastic fibers sections, van Gieson and Verhöeff's stains, respectively, were used (x30).
Quotation and ordering
If you have any special needs or questions regarding our services, please feel free to contact us at 631-626-9181 or info@creative-bioarray.com. We look forward to cooperating with you in the future.
References
Mabrouki L, et al. Cardiac Ameliorative Effect of Moringa oleifera Leaf Extract in High-Fat Diet-Induced Obesity in Rat Model[J]. BioMed Research International, 2020, 2020.
Othman A I, et al. Moringa oleifera leaf extract ameliorated high-fat diet-induced obesity, oxidative stress and disrupted metabolic hormones[J]. Clinical Phytoscience, 2019, 5(1): 48.
For research use only. Not for any other purpose.