You are here: Home
In vitro Eye Irritation Test
In vitro Eye Irritation Test

The human eye is responsible for the optical perception of the surrounding world. To allow light to reach sensory cells on the retina the eye is protected only by a relatively thin transparent tissue called the cornea. In contrast to human skin, the cornea epithelium is not cornified and is thus more prone to mechani­cal or chemical injury. Due to the eyes' vulnerability and their outstanding importance for the individual, standardized test protocols have been developed to assess the potential hazard exerted by chemical substances and consumer products on the human eye.
The traditional standard assays, such as the Draize eye test, pre­dict the effect on the human eye by the reactions observed in different animal models. However, due to ethical concerns, sci­entific reasons and a change in international legislation there is an increasing demand to replace the in vivo methods by alternative in vitro eye irritation test, which involves in using ex vivo and in vitro models.
With over 10 years' experience of working on cell & tissue products and services, Creative Bioarray provides in vitro reconstructed human cornea-like Epithelium (RhCE) model and in vitro eye irritation test services to help industries evaluate eye irritation potential for their chemicals and cosmetic products.
Your Needs
You are looking for RhCE model for your researches?
You wish to evaluate the eye irritation potential for your ingredients, products or chemicals?
You'd like to find a customized service of in vitro eye irritation test?
Our Capability
In vitro 3D models available
Reconstructed human cornea-like Epithelium (RhCE) model
- RhCE model is a highly predictive non-animal alternative to assess eye irritation, drug delivery, infection, wound healing/tissue regeneration and disease modeling.
Ex vivo human cornea model
HCE-T cell line
Assays available
In vitro eye irritation test service based on OECD TG 492.
Assay Examples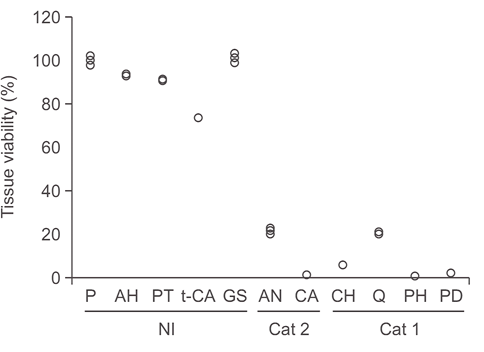 Fig.1. Tissue viability obtained with the optimized eye irritation protocol by using RhCE model. Tissue viability results for 11 reference substances.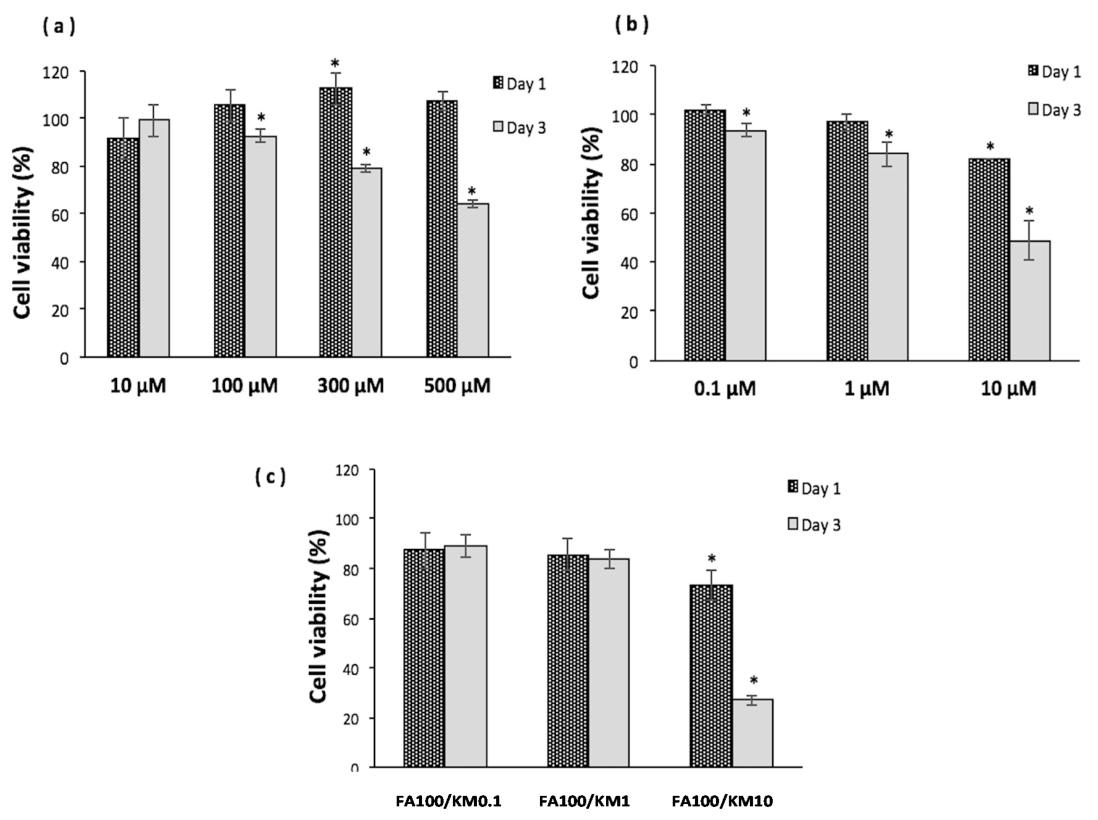 Fig.2. Cell viability of human corneal epithelial cells (HCECs) after incubation with varying concentrations of (a) ferulic acid (FA), (b) kaempferol (KM) and (c) a FA/KM mixture for one or three days.
Related Products and Services
Choose our models to perform screening assays in house, or choose our assays and services directly!!
Reconstructed human cornea-like Epithelium (RhCE) model
Ex vivo human cornea model
In vitro eye irritation test services
Our customer service representatives are available 24hr a day! We thank you for choosing Creative Bioarray services!
For research use only. Not for any other purpose.