You are here: Home
Mouse Model and PDX Analysis (FISH)
Mouse Model and PDX Analysis (FISH)
Over the past century, the mouse has become a key mammalian model system for genetic research due to it genetic and physiological similarities to human. And Patient-derived xenografts (PDX) are increasingly used in cancer research as a tool to inform cancer biology and drug response, which is allow for accurate and reproducible target discovery. All these models need to be molecular analyses.

Fluorescent In situ hybridization (FISH) is a great tool can be applied to differentiate between murine (host) cells and human (grafted) cells and as methods to detect mouse gene expression with morphological context in a multitude of mouse models. With years of professional experience in the FISH Probe and FISH Service field, Creative Bioarray's streamlined process can offer timely and dependable Mouse Model and PDX Analysis (FISH) results, give you the flexibility to focus on other research priorities.
Applications
KO/KD/KI Mouse Models


FISH can be used to confirm the targeted gene deletion or conditional knockout (KO), knockdown (KD), or knock-in mouse

Disease Models


Mouse models of human disease, including cardivascular disease, diabetes and obesity, colities and rare genetic diesase. FISH can be used to identify genes involved in the disease.

Patient-derived Xenograft (PDX) Models


Humanized and patient-derived xenograft (PDX) mouse that require characterization of species-specific cell types. FISH can be used to differentiate between murine (host) cells and human (grafted) cells.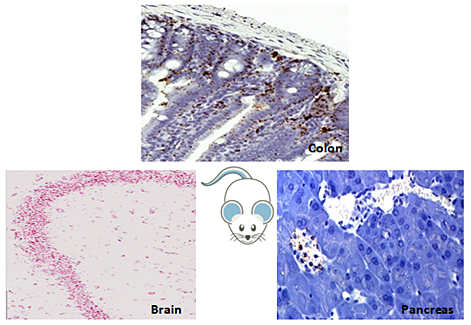 Figure 1. Gene expression analysis for any biomarkers in any tissues in mouse models

Figure 2. Human- and Mouse-Specific RNA Detection in Patient-Derived Xenografts (PDX)
Features
Accurate - In situ Detection Service-Custom design your probe
Value - We focus on the quality of our service and all surpported by competitive pricing
Efficiency - We are able to provide the fastest turnaround time of any supplier in the industry
Quotation and ordering
Our customer service representatives are available 24hr a day! We thank you for choosing Creative Bioarray at your preferred Mouse Model and PDX Analysis (FISH) Services.
References
Han K D.; et al. Application of fluorescent in situ hybridization in the mouse xenograft model of human fat grafting[J]. Aesthetic surgery journal, 2012, 32(6): 745-750.
Liu J F.; et al. Establishment of patient-derived tumor xenograft models of epithelial ovarian cancer for preclinical evaluation of novel therapeutics[J]. Clinical Cancer Research, 2017, 23(5): 1263-1273.
Yu J.; et al. Establishing and characterizing patient-derived xenografts using pre-chemotherapy percutaneous biopsy and post-chemotherapy surgical samples from a prospective neoadjuvant breast cancer study[J]. Breast Cancer Research, 2017, 19(1): 130.
Héroult M.; et al. Anti-tumor efficacy of the selective pan-FGFR Inhibitor BAY 1163877 in preclinical squamous cell carcinoma models of different origin[J]. Cancer Res, 2015, 75.
Facompre N D.; et al. Barriers to generating PDX models of HPV‐related head and neck cancer[J]. The Laryngoscope, 2017, 127(12): 2777-2783.
For research use only. Not for any other purpose.