You are here: Home
Metabolite Profiling and Identification
Metabolite Profiling and Identification
Metabolite profiling and identification studies provide information on the nature and the number of metabolites formed by a drug compound in specific species and test systems. The molecular weight and elemental composition of metabolites are determined along with their proposed structures. During the drug discovery phase, such information is used to decide whether chemical structures should be further modified. More importantly, it helps evaluate the presence of pharmacologically active or chemically reactive metabolites with potential toxicity and whether they are found uniquely or disproportionately in humans versus other species. Hence, it is encouraged to perform in vivo metabolite profiling and identification studies in nonclinical test species early during preclinical development.
Creative Bioarray provides comprehensive services for full MS and information-related MS/MS scanning using liquid chromatography-high resolution mass spectrometry (LC-HRMS). Based on this, our customers can study metabolites in serum or other biological samples across species and know the accurate mass shift of metabolites, the corresponding molecular formula, and molecular structure elucidation.
Animal Species
Rodents

Mice, Rats, Guinea pigs

Non-rodents

Dogs, Minipigs, Non-human primates
Study Design
Animals are randomly divided into different groups based on the sample type (blood, urine, feces, or bile). Samples collected before drug dosing or from animals receiving vehicle solutions can serve as controls. Following is a standard study investigating the metabolite profile of a drug compound in rats.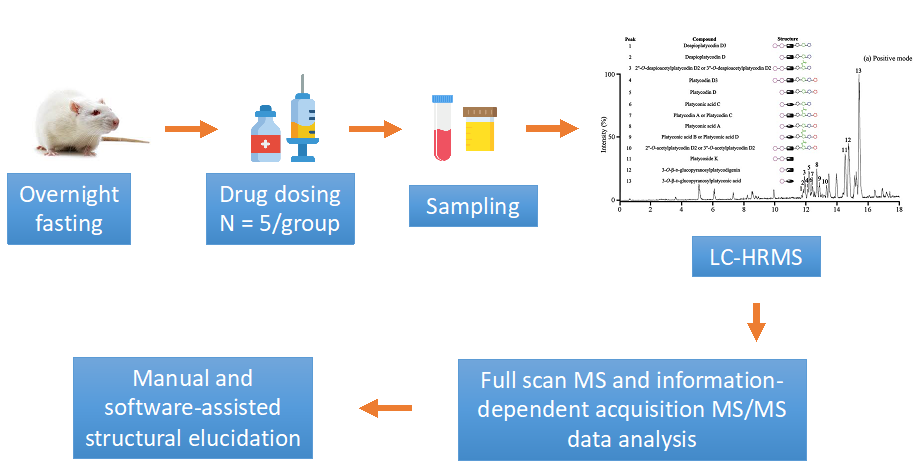 Figure 1. Standard study investigation of drugs' metabolite profiling and identification
According to different research purposes, our experimental design can be adjusted in the following aspects, such as
Additional animals
Additional or custom time points
Additional dosage groups
Cross-species studies
Combined pharmacokinetic studies
In vitro profiling
Multiple-dose studies for steady-state measurement
Fed/food effects
Disease models
Gender effects
Drug dosing routes
Default: intravenous (iv) and oral administration (po)
Others: intraperitoneal (ip), intramuscular (im), and subcutaneous (sc) injections, iv cannulation
Sample collection
Blood plasma/serum sampling
Urine and feces
Bile collections
Tissues or biological fluids sampling
Sample pooling
Serial or terminal sampling
Microsampling
Instruments and services
Ultra or high-performance liquid chromatography (UPLC/HPLC)
Quadrupole Time-of-Flight (QTOF)
Orbitrap
Selected reaction monitoring, production scan, neutral loss scan using triple quadrupole LC-MS
Information-dependent acquisition analysis
Ion mobility spectrometry
Metabolite isolation
Enzyme deconjugation
Hydrogen/deuterium exchange MS
Nuclear magnetic resonance (NMR) spectroscopy
GC and GC-MS
Solid-phase extraction
Radiochemical detection and quantification of metabolites
Radiolabel synthesis
Mass balance studies
Endpoints
Full-scan MS and MS/MS data sets are analyzed by dedicated software and libraries of known or predicted metabolites. Manual and software-assisted structural determination is based on an elemental composition by exact mass measurement, MS/MS fragmentations, retention time, drug biotransformation knowledge, and more. Following are general endpoints examined in a metabolite profiling and identification study.
Extracted ion chromatograms of parent compound and metabolites
Number and nature of detected metabolites
Peak area versus time curves of the parent compound and primary metabolites
MS/MS spectra and fragmentation details
Quotation and Ordering
If you have any special needs or questions regarding our services, please feel free to contact us. We look forward to cooperating with you in the future.
Reference
Tietje, C.; Brouder, A. (Eds.). International Conference On Harmonisation Of Technical Requirements For Registration Of Pharmaceuticals For Human Use. In Handbook of Transnational Economic Governance Regimes (pp. 1041–1053). Brill | Nijhoff. (2010).
For research use only. Not for any other purpose.