You are here: Home
Histology Services
Histology Services
Creative Bioarray provides our global clients the most comprehensive histology services. Drawing on many years of experience and in-depth knowledge, Creative Bioarray offers tissue processing, embedding, sectioning, and staining. Besides a histological examination of all major organs/tissues is provided, including immunohistochemistry (IHC), immunofluorescence (IF), in situ hybridization (ISH), fluorescent in situ hybridization (FISH), and transmission electron mircoscopy. We also perform custom customized packages to satisfy your special requirements. Our experienced scientists work closely with you on every step and provide the most convenient service for you and your team.
Histology, the study of the microscopic anatomy of cells and tissues of plants and animals, commonly performed by examining cells and tissues under the microscope. It is frequently used in clinical research and basic research. Moreover, it is also an important tool in study of pathology. By using the specific antibody to bind the antigens, expression of antigens could be detected for diagnosis of disease, investigation of pathology, and localization of proteins.
Because tissue sample preparation is a time consuming process, Creative Bioarray has prepared the tissue biobank for you to save your time and considerably lower the cost. In addition, we offer the most convenient service for you at any point. We accept fresh tissue, cells, paraffin embedded tissue, unstained slides and any other kinds of tissue/samples, the tests following are available to choose depending on your requirements.
Immunohistochemistry (IHC) and immunofluorescence (IF) are widely used in the diagnosis of diseases including cancer, neurological disease, digestive disease, and other research. It is a routine method to check the expression and localization of target protein.

Different from detection of protein in IHC or IF, In Situ Hybridization (ISH) helps to locate specific DNA or RNA sequences in a portion of tissue. Performing ISH staining is important in genetic study and research.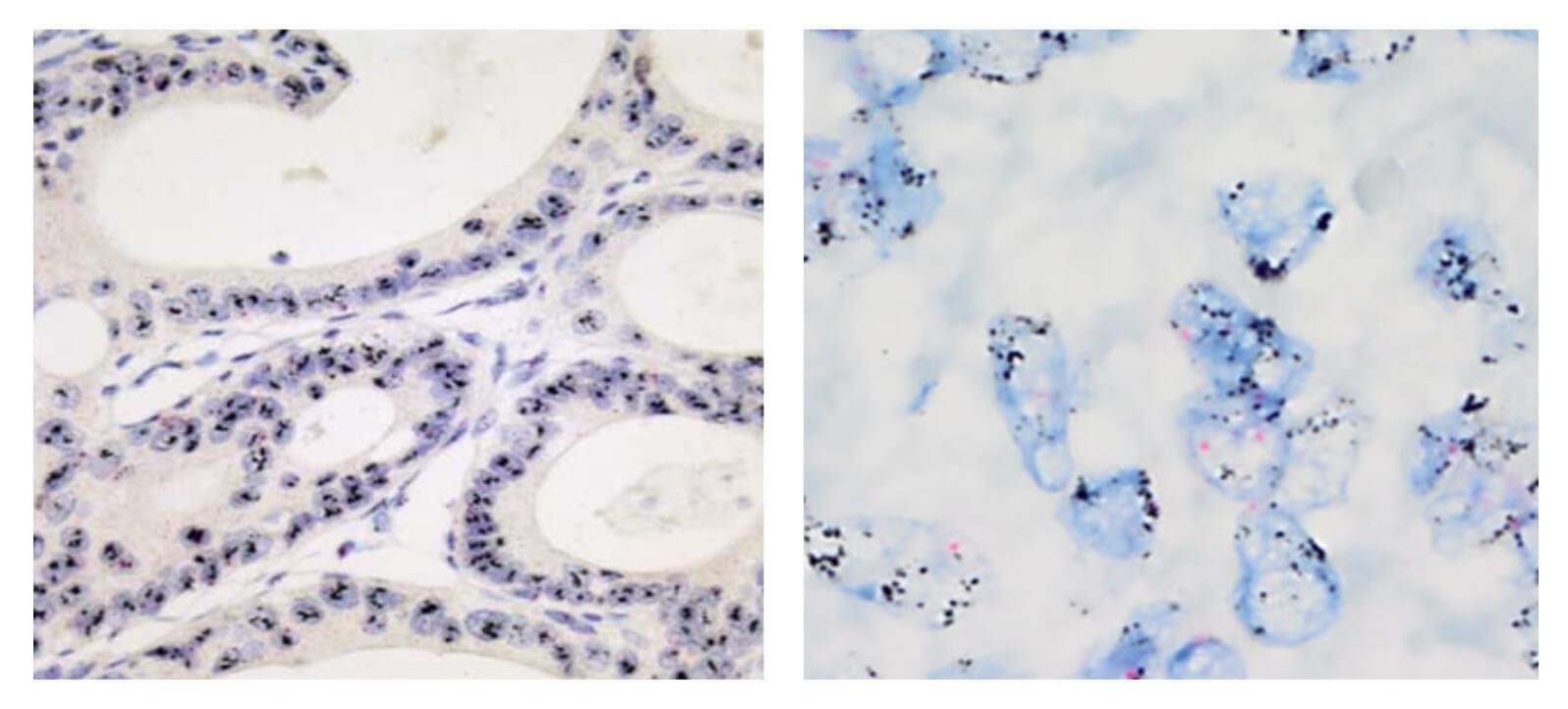 Fluorescent In Situ Hybridization (FISH) service is used to study sequences in cells. FISH is widely used in bacterial related research in tissue samples and disease related research.

In cancer study, circulating tumor cells (CTC) technologies used for cancer detection and therapy investigation. Creative Bioarray offers FISH and CTC FISH service that ranges from testing validated assays to developing new assays.
Transmission electron microscopy (TEM) is a microscopy technique. A beam of electrons is transmitted through an ultra-thin specimen, and interact with the specimen as it passes through it to form an image of the specimen. TEM could be an analysis method in multiple fields such as cancer research, nano technology and other basic research.

Apart from the above-mentioned services, we also offered:
Creative Bioarray is dedicated to providing best histology service to accelerate the achievement of your research goals. Our one-stop service covers steps from tissue fixation to antibody staining. We also offer customized service to meet all your special requirements. Creative Bioarray will be your best and most reliable partner, we are looking forward to cooperating with you!
For research use only. Not for any other purpose.