You are here: Home
In Vitro Comet Assay
In Vitro Comet Assay
Creative Bioarray is currently offering in vitro comet assay for rapid genotoxicity assessment by detecting DNA damage in the form of double strand breaks, single strand breaks, alkali labile sites, oxidative base damage, and DNA-DNA or DNA-protein crosslinking.
Comet assay, also known as single cell gel electrophoresis (SCGE) assay, is a rapid, sensitive, and relatively simple method for detecting DNA damage in individual eukaryote cells. This assay is sensitive to damage of about 50 to 10,000 breaks per diploid mammalian cell.
In this assay, cells are treated with test compounds at different concentrations for a few hours and then embedded in agarose microgels on microscope slides. Lysis solution is applied to the slides to lyse the cells and remove cellular proteins. The DNA is then allowed to unwind under alkaline or neutral conditions for appropriate length of time before undergoing Electrophoresis. The broken DNA fragments or damaged DNA migrate away from the nucleus and give out a comet-like appearance after staining with a DNA-specific fluorescent dye with the head being the intact DNA and the tail being damaged DNA fragments.
Stained slides are observed by fluorescence microscopy. The length and the intensity of the comet tail relative to the head reflects the extent and amount of DNA damage. Up to 50 comets per concentration will be analyzed by imaging software to assess the genotoxicity of test compounds.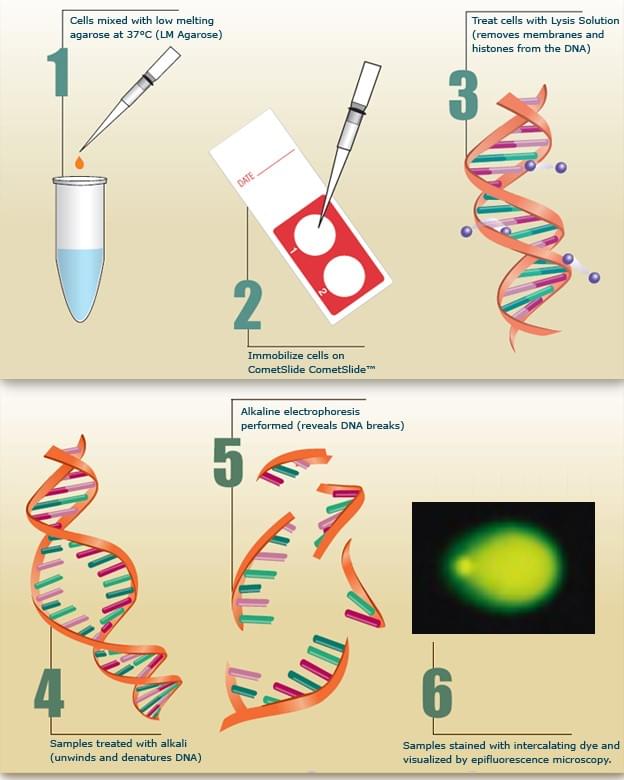 Fig. Comet Assay Procedure. (1, Mix cells with low melting agarose; 2, Immobilize cells on a slide; 3, Remove cellular proteins with lysis solution; 4, Unwind and denature DNA; 5, Electrophoresis; 6, Stain with fluorescent dyes and image)
Advantages:
• Allow custom assay design
• Both alkaline and neutral conditions available
• State-of-the-art image analysis
• Well-set quality control
• High performance
• Cheap and fast
• Applicable on many cell types
Staffed with a group of experts in genotoxicity, Creative Bioarray can provide you with the best service in the field. Please feel free to contact us for more information, or require a quote by filling in the chart below. Our support team will contact you and help you with your request.
For research use only. Not for any other purpose.