You are here: Home
FISH Analysis of Microorganisms
FISH Analysis of Microorganisms
Molecular techniques are increasingly being used to identify microorganisms and have revealed polymicrobial processes and numerous species. Fluorescence in situ hybridization (FISH) is a molecular technique that can be used to detect, identify and enumerate specific groups of bacteria and archaea microbes in situ. The technique allows for the direct quantification of specific types of microorganisms without the need to culture the cells in growth media.
Creative Bioarray is one of the well-recognized experts who is professional in FISH technologies for a broad range of project objective. With years of experience, our scientists can offer high-quality FISH analysis of microorganisms to meet your demands.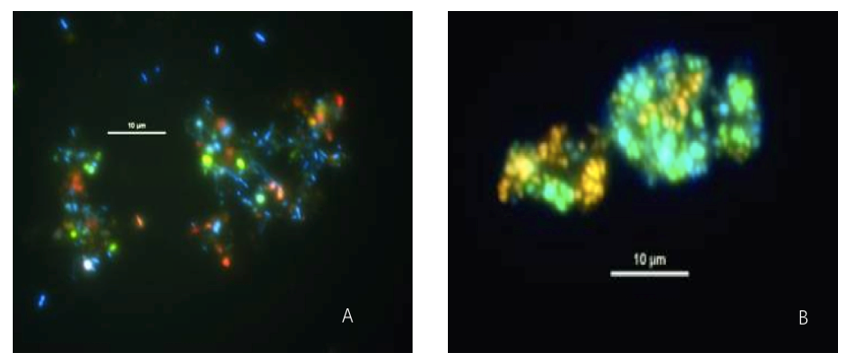 Figure1. Methanolobus spp. (orange) and other members of Archaea(green) in CIB-1; Dawson, Katherine S., et al. "Quantitative fluorescence in situ hybridization analysis of microbial consortia from a biogenic gas field in Alaska's Cook Inlet Basin." Applied and environmental microbiology 78.10 (2012): 3599-3605.

Figure 2. A: FISH detection of Wolbachia (Yellow) on FFPE sections of testes of insects; CRC specimen triply stained with DAPI, EUSO and EUB338. Cell nuclei (in blue), bacterial conserved regions (in green) and F. nucleatum specific regions (in red)
Application:
Detect, identify and enumerate specific groups of bacteria and archaea microbes in situ.
Features:
High accuracy and sensitivity
Fast turnaround time
Competitive pricing
Creative Bioarray offers FISH analysis of microorganisms for your scientific research as follows:
Probe design
Probe synthesis
FISH on samples
Imaging
Data analysis
Quotation and ordering
Our customer service representatives are available 24hr a day! We thank you for choosing Creative Bioarray at your preferred FISH Analysis of Microorganisms Service.
References
Bay L, Kragh K N, Eickhardt S R, et al. Bacterial aggregates establish at the edges of acute epidermal wounds[J]. Advances in wound care, 2018, 7(4): 105-113.
Schmiedel, D., et al. "Fluorescence in situ hybridization for identification of microorganisms in acute chorioamnionitis." Clinical Microbiology and Infection 20.9 (2014): O538-O541.
Amann, Rudolf, and Bernhard M. Fuchs. "Single-cell identification in microbial communities by improved fluorescence in situ hybridization techniques." Nature Reviews Microbiology 6.5 (2008): 339.
Bottari, Benedetta, et al. "Application of FISH technology for microbiological analysis: current state and prospects." Applied Microbiology and Biotechnology 73.3 (2006): 485-494.
Kostic, Aleksandar D., et al. "Genomic analysis identifies association of Fusobacterium with colorectal carcinoma." Genome research 22.2 (2012): 292-298.
For research use only. Not for any other purpose.