You are here: Home
Humanized-Xenograft Model-based Drug Screening
Humanized-Xenograft Model-based Drug Screening

Cancer research has long been hampered by the limitations of the current model systems. Both cultured cells and mouse xenografts grow in an environment highly dissimilar to that of their originating tumor, frequently resulting in promising treatments that are ultimately clinically ineffective. Since the early 2000s, immunodeficient mice appropriate for generating humanized mice have been successively developed, which can help bridge this gap. Humanized-xenograft model allows researchers to examine xenograft growth in the context of a human immune system and resultant tumor microenvironment, and recent studies have highlighted the advances in our understanding of human haematopoiesis, innate and adaptive immunity, autoimmunity, infectious diseases, cancer biology and regenerative medicine.
Creative Bioarray provides various humanized-xenograft models so as to meet the need of increasingly accurate pre-clinical research. Due to the adoption of immunodeficient mice, studies involved in immunotherapies or chemotherapeutic agents that target the immune system are not available to PDX models. To make a supplement, humanized-xenograft models are created by co-engrafting the patient tumor fragment and peripheral blood or bone marrow cells into NOD-SCID mice. The pattern allows for reconstitution of the murine immune system enabling researchers to study the interactions between tumor environments and xenogenic tumor stroma in cancer progression and metastasis.
Advantages
Fast turned around time
High rate of human cell engraftment
Increased clinical relevance compared to CDX & PDX models
Reconstitution of relevant tumor microenvironment
Access to determine relationships between human immunocompetent cells and tumor cells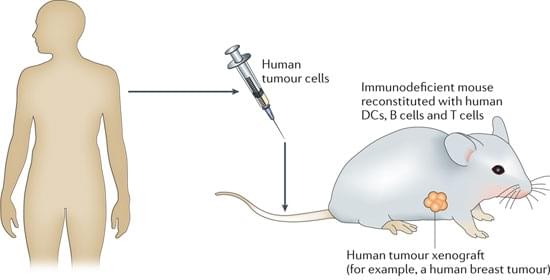 Generation of humanized-xenograft model
Construction of humanized-xenograft model has been accomplished by injecting a suspension of cell aggregates (that is derived from a mild disruption of solid tumors) i.p. into NSG mice. To insure successful tumor engraftment, the tumor biopsy tissues must consist of areas of viable tumor cells that include tumor-associated lymphocytes, and fibroblasts.
Applications
Promote understanding of human oncology and immunology in vivo
Facilitate the examination of investigational cancer therapies
Therapeutic effect evaluation
Generate clinically relevant treatments
Creative Bioarray is dedicated to establish the most competitive service platforms for Immuno-Oncology research. Our scientific staff can assist you and qualify your test as well as simplify your whole project.
Study examples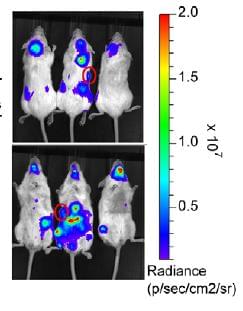 Fig.1 In vivo detection of metastasis 4 weeks after injection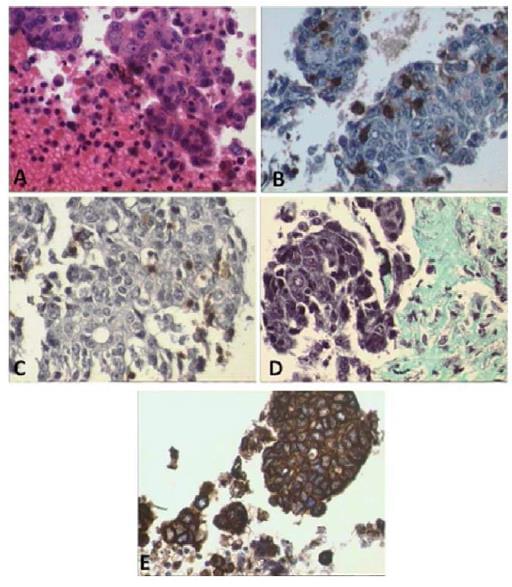 Fig.2 Presence of tumor, T cells and fibroblasts in tumor cell aggregates. H&E staining show clusters of cells of different sizes (A) Immunohistochemical staining for human CD45 (B) and CD3 (C) shows evidence of human leukocytes and T cells, i.e. dark brown stained cells. Trichrome staining (D) reveals the presence of collagen which is produced by fibroblasts and stains aquamarine. Tumor cells stain dark brown with immunohistochemical stain for cytokeratin (E). All figures are at 400x magnification.
Quotation and ordering
If you have any special needs in establishment or application of humanized-xenograft model, please contact us for this special service. Let us know what you need and we will accommodate you. We look forward to working with you in the future.
References
| | |
| --- | --- |
| 1. | Morton J.J.; et al. Humanized mouse xenograft models: narrowing the tumor–microenvironment gap. Cancer Research. 2016, 71(21): 6153-6158. |
| 2. | Thibaudeau L.; et al. A tissue-engineered humanized xenograft model of human breast cancer metastasis to bone. Disease Models & Mechanisms. 2014, 7: 299-309. |
| 3. | Ito R.; et al. Current advances in humanized mouse models. Cellular & Molecular Immunology 2012, 9: 208–214. |
For research use only. Not for any other purpose.