You are here: Home
Percutaneous Absorption
Percutaneous Absorption

There is currently a high level of interest in using the skin as a route for delivering drugs. The skin, however, provides an efficient barrier against percutaneous absorption of drugs. This barrier function can be ascribed to the macroscopical structure of the stratum corneum, which consists of alternating lipoidal and hydrophylic regions.
Nowadays, for pharmaceutical or cosmetic companies, it become more and more important to find a suitable way to screen drug or cosmetic formulations of percutaneous absorption with high precision and efficiency during their drug or product development activities.
Excised human skin has proven to be one of the most appropriate methods to assess percutaneous absorption of topically applied substances, but the limited number of skin specimens and the relatively vast donor variability are limiting factors for its use. In response to these difficulties, advances had been made towards the use of in vitro human skin equivalents/models for dermal drug transport testing.
Creative Bioarray team dedicates in supporting pharmaceutical and cosmetic companies for their percutaneous absorption drug development with our in vitro skin model and drug transport testing services.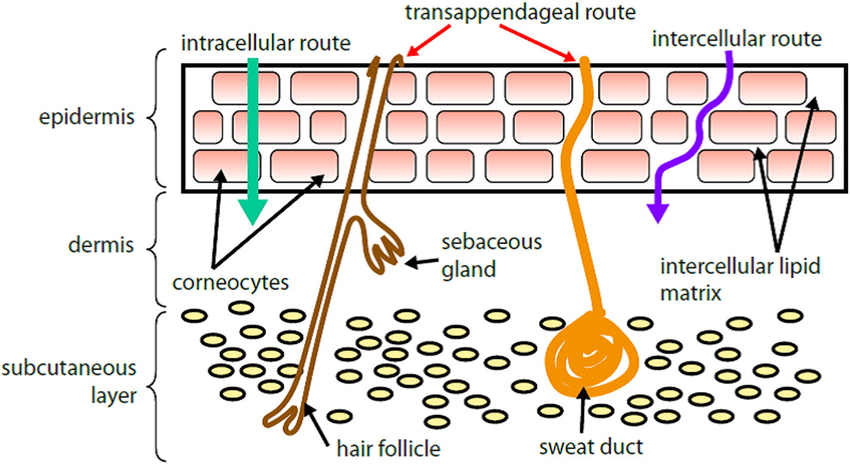 Routes of percutaneous absorption
Your Needs
You wish to screen ingredients or formulations for percutaneous absorption drugs or products?
You'd like to find a customized in vitro drug transport testing service related to percutaneous absorption?
Our Capability
Creative Bioarray provides percutaneous absorption testing performed for pharmaceutical, dermatological and cosmetics industries to help screening percutaneous absorption drugs or products.
In vitro 3D skin models available
Assays available
Percutaneous absorption/Drug transport testing based on OECD 428.
Skin lipid analysis.
Techniques
qPCR, qPCRarray, RT-PCR
Epidermal separation
Immunofluorescence
ELISA
RNA extraction
Protein extraction
Macroscopy
Study Example

 Fig. 1. Cumulative permeation of the FT model by the test compounds. Each compound was tested in 3 batches in triplicate.
Related Products and Services
Choose our models to perform screening assays in house, or choose our assays and services directly!!
Percutaneous absorption/Drug transport testing
Our customer service representatives are available 24hr a day! We thank you for choosing Creative Bioarray services!
In vitro Skin Models:
For research use only. Not for any other purpose.