You are here: Home
3D Cardiovascular Toxicity Service
3D Cardiovascular Toxicity Service

The drug-induced cardiovascular complications restrict the use of many successful clinical treatments such as anticancer therapies. The majority drug-induced cardiovascular complications include overt cardiac dysfunction as well as some negative impact such as hypertension, ischemia, and arrhythmias. Enormous efforts and investments have been made throughout the process of new drugs development to identify adverse effects of cardiovascular systems and minimize the risks for patients. Interspecies differences in ion channel composition and signal cascades can hinder the predictivity of the cardio-toxicity test by using non-human experimental models. Traditional 2D cell culture models cannot recapitulate the human in vivo structure and organization of the myocardium and are lack of the crucial process of cardiomyocyte differentiation. To overcome the weaknesses and limitations of current cell-based and animal-based testing, 3D models with the appropriate biophysical tissue architecture are generated for cardio-toxicity test in order to provide highly predictive and detailed information for the human in vivo study. Creative-Bioarray offers the opportunity for highly predictable pre-clinical cardio-toxicity testing to help our customers to reduce both the cost and duration of bringing a new drug candidate to market.
Creative Bioarray 3D cardiovascular assay service advantages
3D structure of cardiac cell models can be more representative of in vivo tissue than traditional monolayer cell culture.
Capable of providing several physiologic model systems of 3D culture made by cell lines, human iPS cells and ES cells for you to choose.
Able to cover most test endpoints for cardio-toxicity test.
Workflow

Applications
Creative-Bioarray tests your target compound with a series concentration. We focus on a wide range of test endpoints include: QT interval, beat rate change, contraction rate and duration as well as the compound impact on different ion channels, which allow you to better characterize your compounds.
Study examples

Figure 1. The representative data analysis for the detection of APD-prolongation effects of compound E4031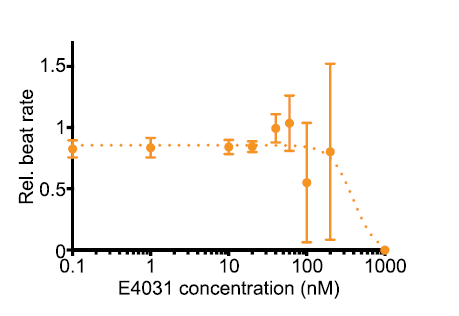 Figure 2 The representative data analysis for the dose-dependent decrease in beat rate of E4031 treatment
Quotations and ordering
Our customer service representatives are available 24hr a day!
See other In Vitro Cardiotoxicity at Creative Bioarray.
References
Barros-Gomes, S., et al. Rationale for setting up a cardio-oncology unit: our experience at Mayo Clinic. Cardio-Oncology. 2016, 2.1: 5.
Jahnke, H., et al. A novel 3D label-free monitoring system of hES-derived cardiomyocyte clusters: a step forward to in vitro cardiotoxicity testing. PloS one. 2013, 8.7: e68971.
Mathur, A., et al. Human iPSC-based cardiac microphysiological system for drug screening applications. Scientific reports. 2015, 5: 8883.
For research use only. Not for any other purpose.