You are here: Home
Cryogenic Transmission Electron Microscopy (cryoTEM)
Cryogenic Transmission Electron Microscopy (cryoTEM)
Cryogenic Transmission Electron Microscopy (CryoTEM), commonly known as cryoTEM, is a form of cryogenic electron microscopy, more specifically a type of transmission electron microscopy (TEM) where the sample is studied at cryogenic temperatures (generally liquid-nitrogen temperatures). CryoTEM is gaining popularity in structural biology. The utility of cryoTEM stems from the fact that it allows the observation of specimens that have not been stained or fixed in any way, showing them in their native environment.
In recent years, cryoTEM has evolved into an essential tool for the characterization of colloidal drug delivery systems. The application of this technique is not only confined to size analysis, but also the shape and internal structure of nanoparticulate carrier systems as well as the overall colloidal composition of corresponding dispersions. For example, cryoTEM can provide the data of the ratio of filled and empty capsids, which is a critical quality attribute requirement for any AAV vector manufacturing process. Cryo-TEM involves rapid freezing of AAV suspensions on a perforated sample carrier and visualizing the sample using a cryogenic transmission electron microscope (cryo-TEM), which shows the projections of AAV particles. In other words, the inside of AAVs can be seen. This enables us to determine whether an AAV particle is genome-filled or empty (Figure 1). Genome-filled capsids are characterized by being dark throughout. Empty capsids have dark boundaries at particle edges but are light in the center. Other sample properties like particle uniformity, integrity and clumping are also readily discerned.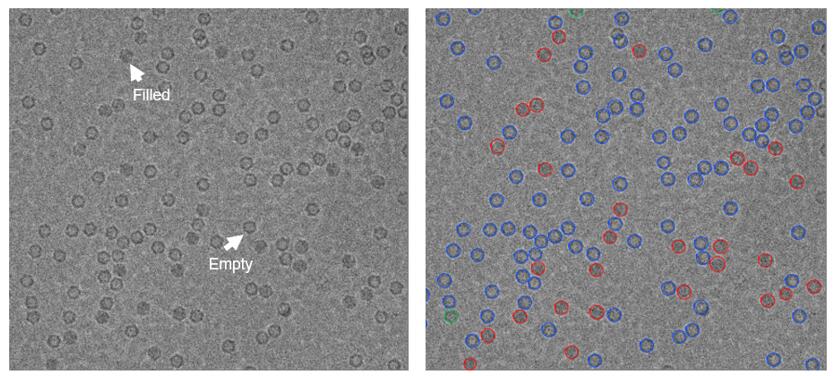 Figure 1 - cryoTEM images of adeno-associated virus (AAV) displaying the filled and empty particles (left). The detected and classified particles are overlaid with red/blue/green circles (right) and correspond to filled, empty, and intermediate particles, respectively.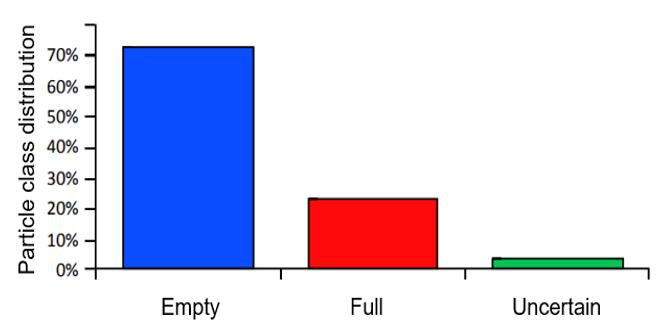 Figure 2 - A representative histogram displaying the percentages of filled, empty and intermediate AAV particles, as determined from semi-automated detection. Particle classification is based on internal density analysis of each particle.
The following useful information of the viral vectors can be monitored using cryo-TEM:
The ratio of filled and empty AAV capsids
The internal density of adenoviral vectors
Lentiviral particles exhibiting a visible core
Liposome-like particles
Others depending on the phase of development of sample production
Features of Creative Bioarray's Cryogenic Transmission Electron Microscopy (cryoTEM) Service:
Accurate - When the analysis is finished, we provide you with the TEM images and a detailed report
Value - We focus on the quality of our service and all supported by competitive pricing
Efficiency - We are able to provide the fastest turnaround time of any supplier in the industry
Quotation and ordering
Our customer service representatives are available 24hr a day! We thank you for choosing Creative Bioarray at your preferred Cryogenic Transmission Electron Microscopy (cryoTEM) Services.
For research use only. Not for any other purpose.