You are here: Home
Molecular Karyotyping (aCGH) Service
Molecular Karyotyping (aCGH) Service
Array Comparative Genomic Hybridization (aCGH) is a high resolution karyotype analysis solution for the detection of unbalanced structural and numerical chromosomal alterations with high-throughput capabilities. Addition of SNPs can also detect polylpoidy, loss of heterozygosity, and uniparental disomy. This method has significantly high resolution, which overcomes the limitation of traditional karyotyping (G-banded) as even high resolution karytoypes are unreliable for detection of many known microdeletion syndromes which range from 3-5 Mb in size.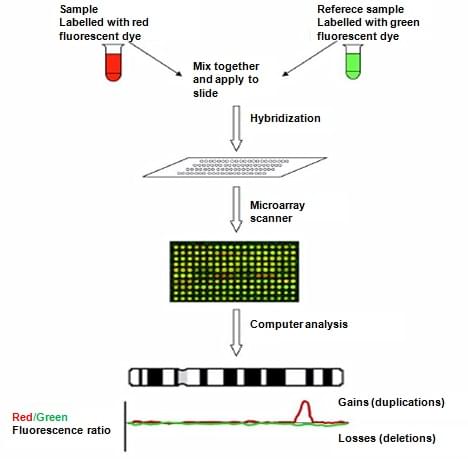 Creative Bioarray offers a wide range of Karyotyping Services (Traditional Karyotyping-G Banded, M-FISH, Molecular Karyotyping, etc) to meet your different needs. Creative Bioarray can provide you with the best research support in karyotyping analysis field.
Work Flow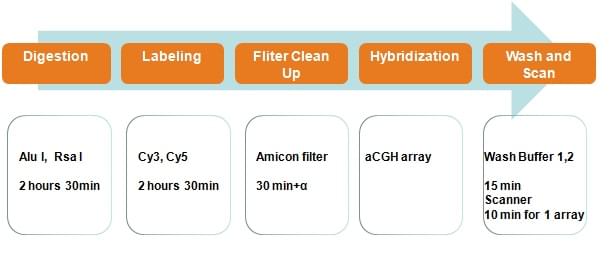 Applications
Detect chromosomal aberrations in tumor cells: aneuploidies, deletions, duplications, and/or amplifications of any locus represented on the array
Monitorthe progression of tumors
Detect submicroscopic aberrations
Features
High resolution
High accuracy and sensitivity
Competitive prices
Fast turnaround time
Quotations and ordering
Our customer service representatives are available 24hr a day! We thank you for choosing Creative Bioarray at your preferred Karyotyping Services.
References
Albertson D G.:, et al. Quantitative mapping of amplicon structure by array CGH identifies CYP24 as a candidate oncogene[J]. Nature genetics, 2000, 25(2): 144.
Hupé P.:, et al. Analysis of array CGH data: from signal ratio to gain and loss of DNA regions[J]. Bioinformatics, 2004, 20(18): 3413-3422.
Hodgson G, Hager J H.:, et al. Genome scanning with array CGH delineates regional alterations in mouse islet carcinomas[J]. Nature genetics, 2001, 29(4): 459.
Iafrate A J.:, et al. Detection of large-scale variation in the human genome[J]. Nature genetics, 2004, 36(9): 949.
Park H.:, et al. Discovery of common Asian copy number variants using integrated high-resolution array CGH and massively parallel DNA sequencing[J]. Nature genetics, 2010, 42(5): 400-405.
For research use only. Not for any other purpose.