You are here: Home
In Situ Detection of CAR-T Cells & Oncolytic Viruses
In Situ Detection of CAR-T Cells & Oncolytic Viruses
On July 12th 2017, an advisory panel convened by the US Food and Drug Administration (FDA) voted 10 to 0 to recommend the approval of CAR T-cell therapy for treatment of children and young adults with late-stage leukemia. The unanimous endorsement paves the way for the first gene therapy to win FDA approval. CAR-T cells have yielded unprecedented efficacy in B cell malignancies, most remarkably anti-CD19 CAR-T cells for B cell acute lymphoblastic leukemia (B-ALL) with up to a 90% complete remission rate. And on October 27th 2015, the FDA approved the first oncolytic virus therapy, T-VEC. The agency approved T-VEC for the treatment of some patients with metastatic melanoma that cannot be surgically removed.

The ability to rewire our own immune system to fight cancer has certainly created huge expectations. After the success, more and more preclinical experiments and Phase I-III trials will be performed on large groups. The distribution of CAR-T cells and Oncolytic Viruses in the tumor and in the body is important for assessing the antitumor effect and safety of the injected CAR-T or Oncolytic Viruses in vivo, while observing the antitumor effect. Because of the heterogeneity of the tumor, the in situ localization and distribution of CAR-T cells and oncolytic virus in tumor cells and tumor microenvironment can reflect the mechanism and application prospect of the treatment method.
As CAR-T and oncolytic viruses themselves carry their own unique nucleic acid sequences, RNA specific probes designed for these regions can effectively detect the distribution of these cells or viruses in situ. So RNA ISH is a unique and effective tool for detecting CAR T cells and viruses in situ.
With years of professional experience in the RNA ISH Probe and ISH Service field, Creative Bioarray's streamlined process can offer timely and dependable in situ detection of CAR-T and Oncolytic Viruses results, giving you the flexibility to focus on other research priorities.
Applications
In Situ detect the distribution of CAR-T cells/Oncolytic Viruses in tumor cells or tissues
Assess the antitumor effect and safety of the injected CAR-T or Oncolytic Viruses in vivo
Confirm CAR expression in FFPE tissue
Quantify the CAR expression in FFPE tissue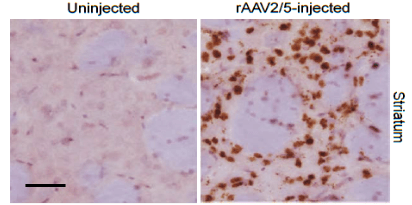 Figure 1. The in situ localization and distribution of rAAV Detection by RNA ISH. Scale bars= 5μm

Figure 2. The in situ localization and distribution of CAR T Cells detection by RNA ISH.
Features
Accurate-In Situ Detection Service-Custom design your probe
Value – We focus on the quality of our service and all supported by competitive pricing
Efficiency – We are able to provide the fastest turnaround time of any supplier in the industry
Quotations and ordering
Our customer service representatives are available 24hr a day! We thank you for choosing Creative Bioarray at your preferred In situ Detection of CAR-T Cells & Oncolytic Viruses Services.
References
Grabinski T M,; et al. A method for combining RNA in situ hybridization with immunohistochemistry in thick free-floating brain sections and primary neuronal cultures[J]. PLoS One, 2015, 10(3): e0120120.
Posey A D,; et al. Engineered CAR T cells targeting the cancer-associated Tn-glycoform of the membrane mucin MUC1 control adenocarcinoma[J]. Immunity, 2016, 44(6): 1444-1454.
Haile S T,; et al. Attenuated oncolytic virus HSV1716 increases in vivo expansion of GD2-targeting CAR T cells in murine solid tumor models[J]. AACR 107th Annual Meeting 2016; April 16-20, 2016.
For research use only. Not for any other purpose.