You are here: Home
Psoriasis Skin Model
Psoriasis Skin Model
3D Psoriasis Skin Model occupies an intermediate position between cell cultures and animal-based models. Unlike cultured cells, they closely imitate changes in cell differentiation and metabolism, which are characteristic of psoriatic lesion skin. Because 3D models exclude nonspecific influences of the surrounding organs and tissues, in some studies they are preferred over animal-based models, as animal skin is not like human skin. Moreover, 3D Psoriasis skin Model can be used for drug screening and testing new pharmacological approaches.
Creative Bioarray provides ready-to-use 3D Psoriasis skin Model for our customers to enable the study of the disease, and to screen therapeutic candidates for safety and efficacy.
Creative Bioarray Psoriasis Skin Model Advantages
Psoriatic Human Tissue Phenotype
3-Dimensional, Highly Differentiated
Highly Reproducible
Read to Use
Ideal for Drug Screening and Basic Studies
Cost Effective Alternative to Animal and Clinical Testing
Similar with in vivo Psoriasis Skin Condition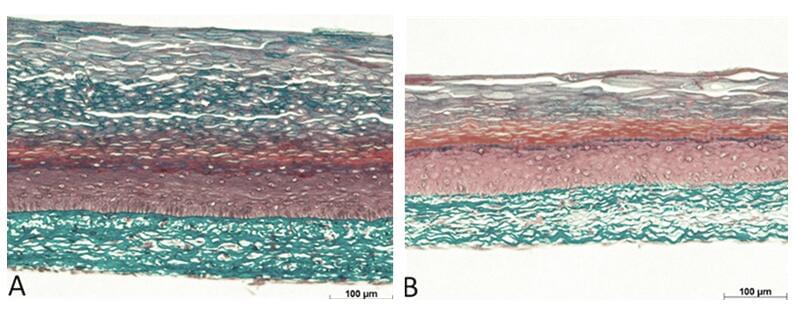 Fig.1 Masson's trichrome staining obtained from healthy(b) and psoriatic substitutes(a)
Specific Markers
Ki67
HBD2
Psoriasis
Elafin
Calgranulin C
Cytokeratin 16
And More
Fillagrin
IL-6
IL-8
GM-CSF
And More

Fig. 2 Proliferation and Differentiation markers
Applications
Quote and ordering
Our customer service representatives are available 24hr a day! We thank you for choosing Creative Bioarray services!
Related models
In vitro Reconstructed Human Epidermis(RHE)
In vitro Full Thickness Skin Model
Ex vivo Skin Explants
Neurodermatology Skin Model
Pigmented Epidermis Model
For research use only. Not for any other purpose.