You are here: Home
Custom Cell & Tissue Lysates Service
Custom Cell & Tissue Lysates Service
With the world's most comprehensive list of research-use cells and tissues available and advanced platform for custom lysate preparation, Creative Bioarray provides custom cell & tissue lysates service for all of our customers to meet their scientific requirements for downstream analysis. We provide different types of lysates from various species such as human, cynomolgus monkey, bovine, canine, mouse, rat, rabbit, ferret, zebrafish, and so on. Our well-made cell & tissue lysates can be a critical part for our customer in any field, such as medical, therapeutic, pharmaceutical, disease study and etc.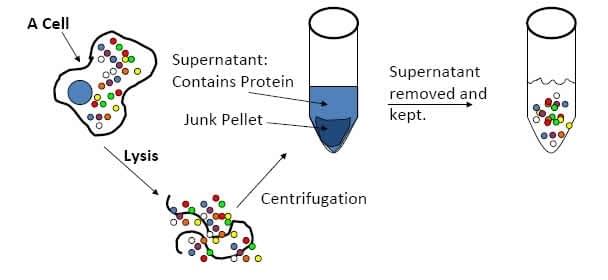 Based on our extensive experience in lysate preparation from primary cells, stable cell lines expressing recombinant proteins, stem cells, tissues and membrane, Creative Bioarray provides a vast assortment of custom cell & tissue lysates with high quality as below:
Over-expression lysate
Cell line lysate
Stem cell lysate
Tissue lysate from normal, tumor or disease tissues (See our pre-made tissue lysate in our bank)
Membrane lysate
With high-effect reagents, equipment and experienced technicians, Creative Bioarray owns proprietary platform of custom lysate service, which guarantees the high quality of our lysates.
Key Features
Stable quality
High concentration of up to 20 mg/ml
Capable of offering large scale lysate production>
Fast turnaround time
Strictly QC tests
Quality Control
Creative Bioarray chooses the most suitable lysis methods for our customers, including acoustic, electromagnetic, mechanical or other methods. Quality control of lysates at Creative Bioarray is performed strictly by SDS PAGE and Western Blot. Protein pattern is consistent with each lot. More QC details can be found in product datasheets.

Figure 1. SDS-PAGE- Mouse liver cell whole lysate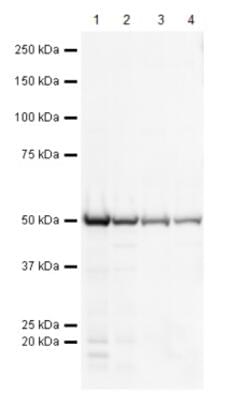 Figure 2. WB-Mouse tissue lysate
Applications of Creative Bioarray Lysates
Creative Bioarray Cell and Tissue Lysates are suitable for applications such as electrophoresis, SDS-PAGE, western blot, ELISA, immunoprecipitation, pull down assay, enzymatic activity analysis, protein interaction analysis, tissue specific expression identification and many other analytical assays.
Quotations and ordering
Our customer service representatives are available 24hr a day!
We thank you for choosing Creative Bioarray at your preferred whole cell lysate source.
Creative Bioarrray's Cell and tissue Lysates are for in vitro research purposes only, and cannot be used for diagnostic and therapeutic procedures.
For research use only. Not for any other purpose.