You are here: Home
In vitro Reconstructed Human Epidermis (RHE)
In vitro Reconstructed Human Epidermis (RHE)
In vitro 3D reconstructed human epidermis from normal human keratinocytes cultured on an inert polycarbonate filter at the air-liquid interface, in a chemically defined medium. This model exists at different stages of maturity. The Creative Bioarray Reconstructed Human Epidermis Model (RHE) is very similar to human skin in terms of morphology, of differentiation markers and of functional characteristics.

Fig.1 Representative histology for 3D culture raised to air-liquid interface, structures are histologically similar to in vivo human epidermis.
Specific Markers
Filaggrin
Involucrin
Loricrin
corneodesmosin
Keratin 10
Keratin 5
Presence of different epidermal classes of lipids comprising ceramides
Type IV collagen
Laminin V
Alpha6Beta4-integrin
BP antigen
Ki67
Others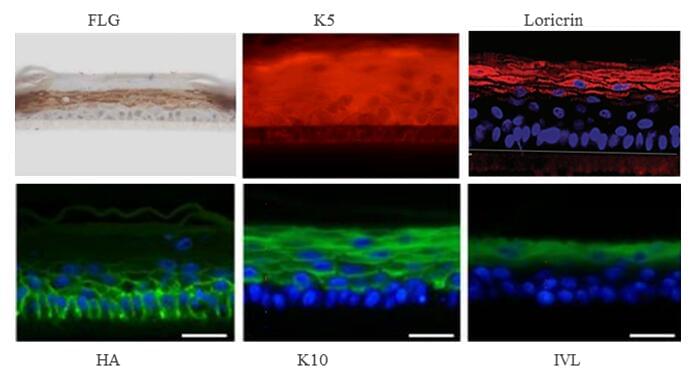 Fig.2 Epidermal differentiation and dermal matrix markers by Native Skin and in vitro RHE model
Applications
Creative Bioarray Reconstructed Human Epidermis Model (RHE) is cultured at the air-liquid interface and allows for the evaluation of topically applied compounds, chemicals, cosmetic/personal care product ingredients and final formulations.
UV exposure
DNA damage
Bacterial adhesion
Omics
Permeability
Quote and ordering
Our customer service representatives are available 24hr a day! We thank you for choosing Creative Bioarray services!
Related models
In vitro Full Thickness Skin Model
Ex vivo Skin Explants
Neurodermatology Skin Model
Pigmented Epidermis Model
Psoriasis Skin Model
For research use only. Not for any other purpose.