You are here: Home
iPSC Characterization
iPSC Characterization
iPSC generation has become increasingly easier because of advanced technology, but the characteristics of various iPSCs is depending on the source, derivation, passage and culture conditions. In order to evaluate the pluripotency, safety and confirm the identity of PSCs, it is essential to perform a set of characterization analysis. Our scientists with extensive experience at Creative Bioarray provide comprehensive iPSC characterization service for customers all over the world.
Creative Bioarray Offers iPSC Characterization Service as Follows (including but not limited to):
1. Pluripotency and lineage-specific markers staining:
2. Karyotyping:
3. Differentiation potential analysis:
4. Microbiological contamination testing:
5. Genome sequencing analysis:
6. HLA typing for potential transplantation studies
7. DNA Fingerprinting (Short tandem repeats (STR) profiling)
Example of Teratoma Formation Assay Results: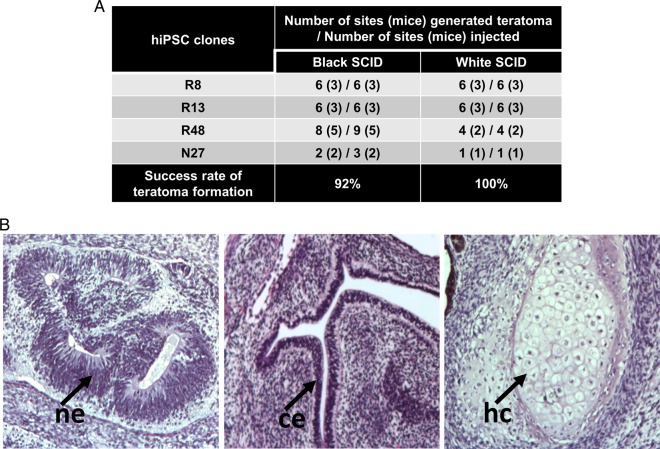 Creative Bioarray is an experienced and outstanding provider of iPSC characterization services. We are dedicated to providing detailed data and comprehensive service for your scientific research, and we are pleased to use our extensive experience and advanced platform to offer the best service to satisfy each demand from our customers.
If you have any special need in iPSCs characterization, do not hesitate to contact us for this special service. Please let us know what you need and we will accommodate you. We are looking forward to working with you in the future.
References
Steichen, et al. "Messenger RNA‐versus retrovirus‐based induced pluripotent stem cell reprogramming strategies: Analysis of genomic integrity." Stem cells translational medicine 3.6 (2014): 686-691.
Baghbaderani, et al. "Detailed characterization of human induced pluripotent stem cells manufactured for therapeutic applications." Stem Cell Reviews and Reports 12.4 (2016): 394-420.
For research use only. Not for any other purpose.