Inflammatory bowel disease (IBD) is a chronic intestinal inflammatory disorder which encompasses Crohn's disease (CD) and ulcerative colitis (UC). It is well known that genes, immune and environmental factors play a vital role in the occurrence of IBD. At present, the prevalence of IBD is over 0.3% worldwide. And about 70 different kinds of animal models have been established to research IBD so far, which are mainly divided into chemically induced model, genetically engineered model, cell-transfer colitis model and congenial mutant model.
Creative Bioarray focuses on drug research and development services and helps customers explore novel therapeutic options and understand the pathogenesis of IBD by IBD models.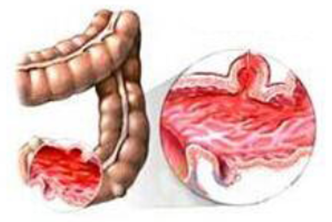 Figure. 1. Colitis
Creative Bioarray provides you with inflammatory bowel disease models including but not limited to:
Chemically induced model

Indomethacin induced model

Genetically engineered models

Il-10 KO model
Mdr1a knockout model
SAMP1/Fc mouse model

Adoptive T cell transfer colitis model
Our capabilities
We utilize Inflammatory bowel disease models to test the efficacy of drug candidates targeting IBD.
We assess the severity of IBD through clinical analysis including weight loss, diarrhea and occult blood in stool.
We evaluate various cytokines through IHC, ELISA, etc.
Assays available
Clinical analysis
Histopathological evaluation
Analysis of mRNA and protein levels
Cytokine/chemokine analysis
Immunohistochemistry
With extensive experience in the field of IBD, we are confident to help you to overcome any upcoming challenges. Our experts are fully capable of customizing our protocols and assays to meet your specific needs. With our help, we wish to facilitate your research with high efficiency.
Study examples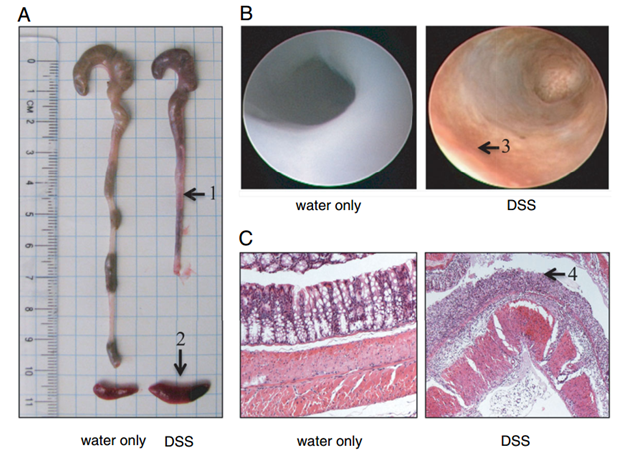 Figure. 2. DSS-induced intestinal inflammation in mice. Eight-week-old C57BL6 mice were given 2.5% DSS in drinking water for 7 days. Control mice were given water only. On day 8, mice were sacrificed and monitored for colitis. (A) Gross picture of colons. (B) Endoscopic examination of colons. (C) H&E-stained colonic sections. Arrows indicate: (1) shortened and bleeding colons, (2) enlarged spleen, (3) superficial inflammation, (4) epithelial erosion and immune cell infiltration in DSS-treated mice.
Quotation and ordering
If you have any special needs or questions regarding our services, please feel free to contact us at 631-626-9181 or info@creative-bioarray.com. We look forward to cooperating with you in the future.
Reference
Chassaing B , Aitken J D , Malleshappa M , et al. Dextran Sulfate Sodium (DSS)-Induced Colitis in Mice.[J]. Curr Protoc Immunol, 2014, 104:Unit 15.25.
For research use only. Not for any other purpose.