You are here: Home
High Content Imaging (HCI) Using 3D Cell Cultures
High Content Imaging (HCI) Using 3D Cell Cultures
As a leading provider of 3D cell culture models, Creative Bioarray offers high content imaging services using our various ready-to-use 3D microtissues. These services have multiple applications including drug cytotoxicity evaluation and novel therapeutic compounds screening.
We are able to provide:
Custom generation of 3D microtissues
Single-cell functional analysis of individual spheroid
Drug effect assessment
Cytotoxicity evaluation
High quality data and complete analysis
High content imaging (HCI) is a high-throughput, automated microscope-based technique. With several fluorescent dyes, HCI assays can provide information on multiple properties of individual cells. Conventional HCI assays carried out on monolayer cell cultures are limited in their capability in predicting drug toxicity and efficacy in vivo due to the highly limited properties of 2D cell cultures to form tissue-like structures, while HCI on 3D cell cultures, combining the advantages of both 3D cell culture and high content screening, provides more liable data with multiple benefits, including:
More predictive information on drug toxicity and efficacy;
More accurate evaluation of drug candidates;
Capable of simultaneously measuring multiple parameters;
Able to mimic in vivo microenvironment, cell behavior and characteristics;
Our service can be tailored to the purpose of the customers. 3D cell cultures formed from single cell type or from co-cultured cells are both available. For drug cytotoxicity evaluation and screening, 3D cell cultures are treated with a number of compounds at different concentrations. Multiple levels of spatial information can be obtained. Endpoints including spheroid size and number, GSH content, LDH release, ATP content, and mitochondrial membrane potential (MMP) can be monitored over time with our automated high content imaging system. At the end of the assay, data obtained will be analyzed by our experts to provide a complete report on all the endpoints you choose to test for each compound.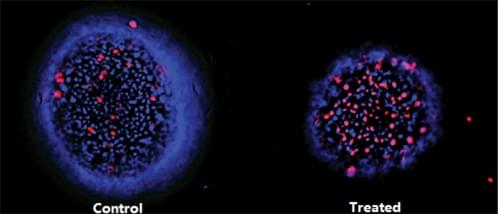 Creative Bioarray can provide high quality data through HCI approach using 3D cell cultures. With our advanced technology and experienced scientific team, we are ready to serve you and make your journey of drug discovery smoother. Please feel free to contact us for more information.
For research use only. Not for any other purpose.