You are here: Home
Atopic Dermatitis
Atopic Dermatitis

Atopic dermatitis (AD) is a chronic, pruritic inflammatory skin disease of unknown origin that usually starts in early infancy, but also affects a substantial number of adults. Left untreated, the barrier function of the skin is compromised, increasing susceptibility to dehydration and infection. It is so common and also known as Eczema, Dermatitis, Atopic eczema. Since the 2000s, the discovery of a preventive treatment for this severe dermatosis has been a special line of research in the pharmaceutical, dermatological and cosmetics industry.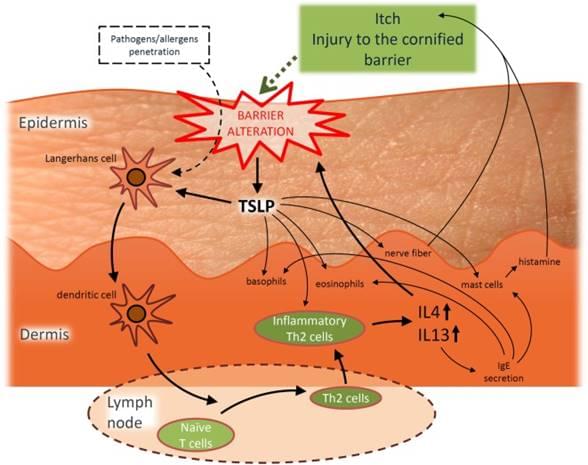 Pathogenesis of acute atopic dermatitis
Creative Bioarray team dedicates in developing and validating predictive in vitro pharmacological testing for screening or evaluating potential modulators of atopic dermatitis (APIs, biosimilars, formulations, medical devices) before clinical trials.
Your Needs
You are looking for an in vitro skin model to perform screening testing of atopic dermatitis?
You wish to screen active ingredients, and characterize the efficacy or toxicity or safety of any products or chemicals for atopic dermatitis?
You'd like to find a customized in vitro testing service related to atopic dermatitis?
Our Capability
Creative Bioarray provides in vitro 3D skin tissue models and evaluation assays performed for pharmaceutical, dermatological and cosmetics industries to help screening modulators of atopic dermatitis.
In vitro 3D skin models available
Customized 3D skin models
Customized screening or validation assays
Endpoints
Immune response (Th2/Th22 cytokine release, Ig production, etc.)
Skin sensitization (basophil activation, histamine release, neuropeptide production, etc.)
Activation of inflammatory response of keratinocytes or reconstructed epidermis
Epidermal differentiation, skin integrity and lesions, barrier function and antimicrobial defenses
Specific markers
Techniques
qPCR, qPCRarray, RT-PCR
Epidermal separation
Immunofluorescence
ELISA
RNA extraction
Protein extraction
Macroscopy
Related Products and Services
Choose our models to perform screening assays in house, or choose our assays and services directly!!
Our customer service representatives are available 24hr a day! We thank you for choosing Creative Bioarray services!
Reference
Evelyne De Vuyst et. Al:; Atopic Dermatitis Studies through In Vitro Models. Front Med (Lausanne). 2017; 4: 119.
In vitro Skin Models:
For research use only. Not for any other purpose.