Atherosclerotic cardiovascular disorder is increasingly the main cause of mortality worldwide. Atherosclerosis is characterized by arterial plaque and ultimately lead to acute myocardial infarction or stroke. Animal models of atherosclerosis are based on cholesterol-rich diet and manipulation of special genes. At present, mouse and rabbit models are commonly used in mechanism research and translational research. These models have made some contributions to the treatment and diagnosis of atherosclerotic disease.
Creative Bioarray focuses on drug research and development services and helps customers evaluate the drug efficacy and study the associated pathological mechanisms of atherosclerosis by atherosclerosis model.
Models available
Hgih-fat diet induced APOE(−/−) mouse model
Species available
Our capabilities
We screen novel test compounds targeting atherosclerosis.
We use HE staining, Oil Red O and Masson trichrome staining for determination of atherosclerotic lesion.
Assays available
Histopathological evaluation
Cytokine analysis
With extensive experience in the field of cardiovascular disorder, we are confident to help you to overcome any upcoming challenges. Our experts are fully capable of customizing our protocols and assays to meet your specific needs. With our help, we wish to facilitate your research with high efficiency.
Study examples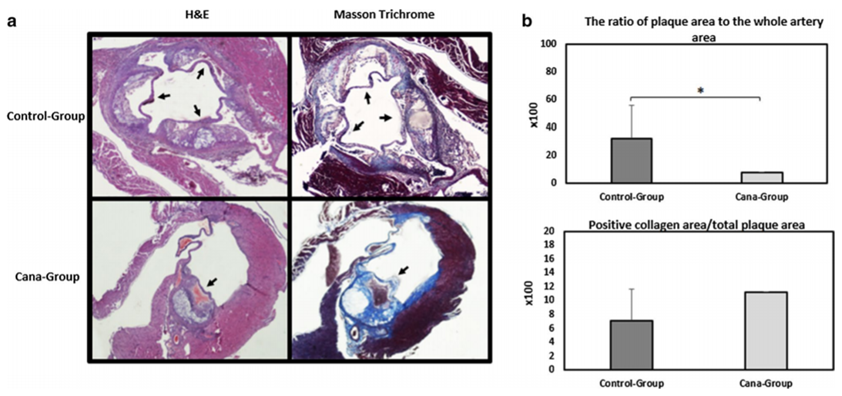 Figure. 1. Atherosclerotic plaque extension among APOE(−/−) mice on western diet treated with canaglifozin (Cana-group) or vehicle (control-group). a Selected 4 μm section images from the aortic root stained with H&E and Masson trichrome. Formation of atherosclerotic plaque was examined using H&E staining while histological examination of atherosclerotic plaque collagen content was assessed using Masson trichrome staining. b Quantifcation of plaque area is shown as a percentage of lumina stenosis by thickened intima. Collagen content was measured using quantifcation of Masson trichrome positive area over complete plaque area.
Quotation and ordering
If you have any special needs or questions regarding our services, please feel free to contact us at 631-626-9181 or info@creative-bioarray.com. We look forward to cooperating with you in the future.
Reference
Nasiri-Ansari Νarjes, et al. Canagliflozin attenuates the progression of atherosclerosis and inflammation process in APOE knockout mice[J]. Cardiovascular Diabetology, 2018, 17(1):106.
For research use only. Not for any other purpose.