You are here: Home
Immunohistochemistry (IHC), Immunofluorescence (IF) Service
Immunohistochemistry (IHC), Immunofluorescence (IF) Service
By providing the high quality immunohistochemistry (IHC) and immunofluorescence (IF) services to customers for many years, Creative Bioarray will give you the best and most comprehensive service in regular and customized immunohistochemistry and immunofluorescence services. Our talented and experienced scientists have more than 10 years' experience in tissue-based IHC and IF. They would work closely with you and provide high quality service for you in a short period.
IHC, by exploiting the principle of antibodies binding specifically to antigens in biological tissues, is a routine method to detect antigens in cells of a tissue section. It is widely used in the diagnosis of diseases including cancer, neurological disease, digestive disease, etc. Specific molecular markers have been found and verified to be characteristic of particular cellular events in disease such as proliferation, apoptosis and inflammation. Thus it could be used in detection of such changes involved in disease. IHC is also a common method in basic research of disease to help understanding the distribution and localization of biomarkers and differentially expression of proteins in different parts of tissue. Creative Bioarray offers a comprehensive IHC service from project design, marker selection to image completion and data analysis. We are dedicated to satisfied every customer and assist them to achieve their specific research goals.
Creative Bioarray provides the routine and customized IHC and IF service:
Preparation of Tissue Sections
We accept shipment of formalin-fixed tissues or cell samples. Following embedment would be performed.

Frozen Embedding and Sectioning
Paraffin Embedding and Sectioning
Cell Pellet Embedding and Sectioning
Selection of Antibodies
We offer common biomarkers and staining, which includes, but not limited to:

H&E Staining
Ki67+ (Cell proliferation)
TUNEL (Cell apoptosis)
CD15 (Hodgkin's Disease)
CD117 (Gastrointestinal stromal tumors)
Cytokeratins (Carcinomas)
CD10 (Renal cell carcinoma and acute lymphoblastic leukemia)
CD20 (B-cell lymphomas)
CD3 (T-cell lymphomas)
Matrix metalloproteinase 9 (Carcinomas)
PCNA (Carcinomas)
CA-15-3 (Breast Tumor)
Our service is not just limited to these biomarkers. Other markers such as CD30, CD14, CD8, CD10, CD31, CD117, CEA, Desmin, P63, S-100, PSA, Mart-1 and more antibodies are also available. Please contact our agents for more information. Moreover, customers can also ship their own antibodies to us for use of the IHC service.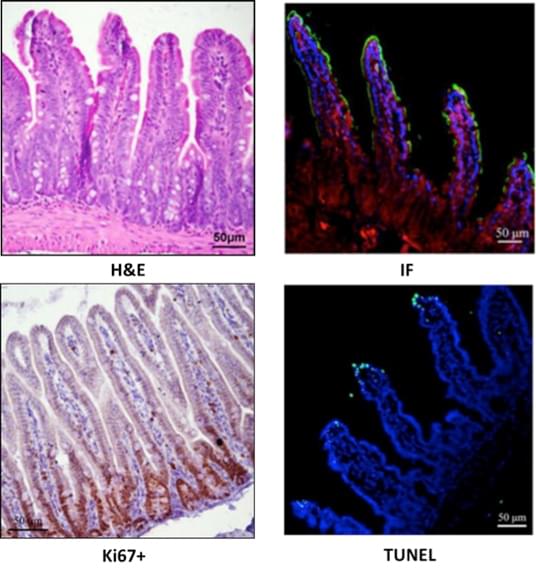 Zhang Y, Emilie V, Zhang M, et al. Scientific Reports, 2016, 6.
Staining
We perform IHC and IF staining on slides with IHC single label or IHC and IF double label. IHC and IF double label staining present two markers on the same tissue slides, contributes to a better understanding of protein localization and interaction.
Report and Analysis

Pathological evaluation including scoring and analysis
High-resolution digital imaging
Spot counting and other image analysis
Pathology consultation
Creative Bioarray is a reliable company providing routine and customized IHC and IF service. We have excellent scientists who have more than 10 years' experience in IHC and IF staining. They work closely with you on every step from antibody selection to image analysis. We promise the quality and speed of our service, and we guarantee the satisfaction of our customers.
For research use only. Not for any other purpose.