You are here: Home
Skin Sensitization
Skin Sensitization

Skin sensitization is defined as allergic response to a substance after skin contact. A skin sensitiser refers to a substance that will lead to an allergic response following skin contact as defined by the United Nations Globally Harmonized System of Classification and Labelling of Chemicals.
The assessment of skin sensitization has typically involved the use of laboratory animals. The classical method is using guinea-pigs. While, more recently mechanistically-based in chemico (OECD TG 442C) and in vitro (OECD TG 442D) test methods have been adopted for contributing to the evaluation of the skin sensitization hazard potential of chemicals as a valid animal test alternative.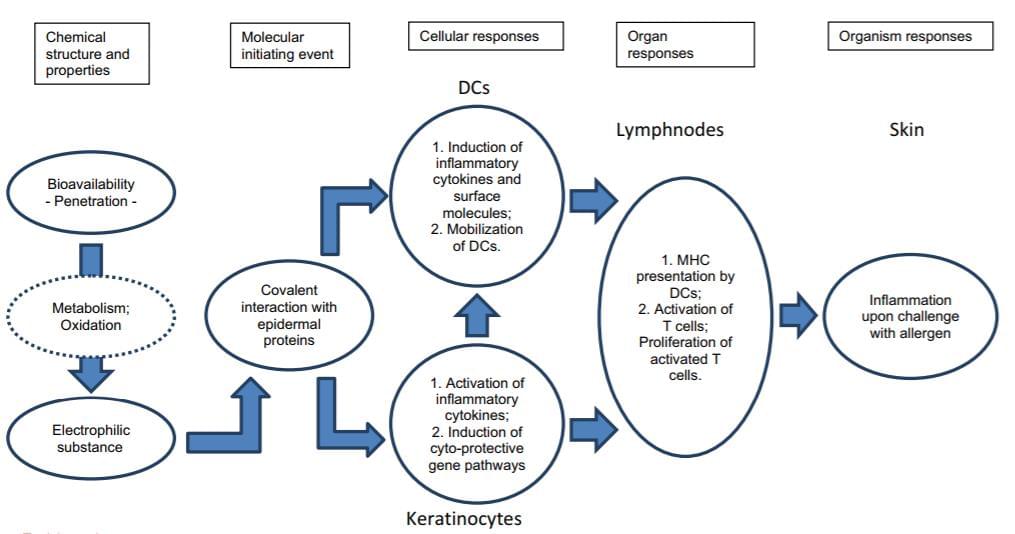 Fig 1. OECD flow diagram of the pathways associated with skin sensitization. The Adverse Outcome Pathway (AOP) framework provides a structure for collecting, organizing and evaluating the available data that describe the compound and the events resulting in an adverse outcome at a biological level of organization.
Creative Bioarray team provides in vitro skin models and in vitro skin sensitization assays in order to support pharmaceutical and cosmetic companies for their drug or product development related to skin sensitization.
Your Needs
Our Capability
In vitro skin models available
Assays available
Creative Bioarray can provide a range of services to evaluate skin sensitization by using our skin models or cell lines:
Study Example

Fig 2. Gene expression analysis after treatment for 24 hours with sensitizers
Related Products and Services
Choose our models to perform screening assays in house, or choose our assays and services directly!!
Our customer service representatives are available 24hr a day! We thank you for choosing Creative Bioarray services!
In vitro Skin Models:
For research use only. Not for any other purpose.