You are here: Home
Alzheimer's Disease In Vitro Model Service
Alzheimer's Disease In Vitro Model Service
Creative Bioarray offers development of custom designed in vitro models by using primary neuronal cultures, cell lines, iPS cells with genetic modifications, which are phenotypically closer to the adult neuronal network and mimic the development of AD. Our custom model services focus on but not restricted to AD induced by the accumulation and aggregation of Aβ. We also offer a wide range of assays that enable more accurate prediction of patient response to pharmacotherapy:
APP Processing Assay
Beta secretase inhibitors
Gamma secretase inhibitors
Inhibitors of Aβ peptide formation
We provide this powerful and versatile tool for AD therapy as well as basic research to help our customers understand more about the underlying mechanisms in the progression of AD.
Study Example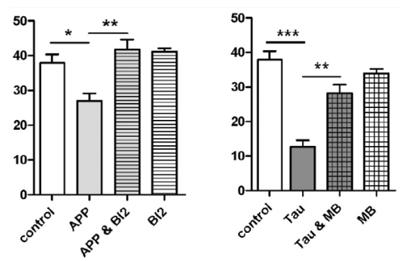 Figure 1 Neurite outgrowth is inhibited by (intracellular) amyloid and tau treatment, and rescued by β-secretase inhibitor and methylene blue respectively.
Quotation and ordering
Contact us if you have any questions. Our customer service representatives are available 24hr a day.
Reference
Stoppelkamp, S.; et al. In vitro modelling of Alzheimer's disease: degeneration and cell death induced by viral delivery of amyloid and tau. Experimental neurology. 2011, 229(2): 226-237.
For research use only. Not for any other purpose.