You are here: Home
PDO-based Drug Screening
PDO-based Drug Screening
Organoid research has been an emerging field in the past decade since organoids have the potential to provide better drug screening. Patient-derived organoids (PDOs) are three-dimensional (3D) cell culture models derived from patient samples, such as tumor tissue. Studies have shown that the response profiles of PDOs to targeted and chemotherapeutic drugs are highly matched to the patients, suggesting that they can accurately predict drug efficacy, making them an ideal model for new drug screening, personalized medication, and precision medicine.
At Creative Bioarray, we offer state-of-the-art PDO-based drug screening services that enable researchers and pharmaceutical companies to effectively identify drug candidates from existing or customized compound libraries and to evaluate the efficacy of potential drugs before moving on to costly clinical trials. Our comprehensive workflow ensures accurate and reliable results, enhancing the drug discovery process.
Our PDO-Based Drug Screening Services with High Throughput Screening (HTS)
Establishment and characterization of PDOs

Fig. 1 Establishment and characterization of PDOs for HTS. (Cao C, et al., 2022)
Scientists at Creative Bioarray have established a range of tumor organoid models to screen for potential anti-cancer compounds. Screening of PDO models adapted to HTS requires good proliferation stability. Therefore, we used sequencing, fluorescent in situ hybridization (FISH), and other methods for the genetic characterization of organoids to ensure that their characteristics met expectations. In addition, we also characterize the representativeness of their disease traits.
High throughput screening for drug screening
Creative Bioarray has developed advanced automation systems to perform HTS, with the characterization of micro-volume, rapid, sensitive, and accurate, enabling the screening of thousands of compounds simultaneously. This high throughput approach significantly accelerates the drug discovery process and reduces costs.
Organoid experimental assays suitable for HTS require high sensitivity and robustness. We employ the 3D cell viability test to assess organoid cell viability. This test enables the quantification of viable cells in PDO cultures by quantifying the ATP content in metabolically active cells.
Multiple compound libraries containing potential drug candidates are available for HTS screening at Creative Bioarray:

Natural product library (containing 1,000-4,000 natural compounds)
FDA-approved drug library (containing 2,000-3,000 approved drugs)
Drug repurposing compound library (containing about 4,000 compounds)
Metabolism compound library (containing about 800-5,000 compounds)
Customized libraries
Data analysis and interpretation
Tibco Spotfire and R are used for HTS data visualization and analysis. Then, we analyze the generated data of HTS to identify compounds that exhibit desired effects on the PDOs. Statistical methods, curve fitting, and other data analysis techniques are employed to identify compounds showing significant activity, selectivity, and potency. The results are compared with control groups and reference standards to determine the effectiveness of the compounds.
Study Examples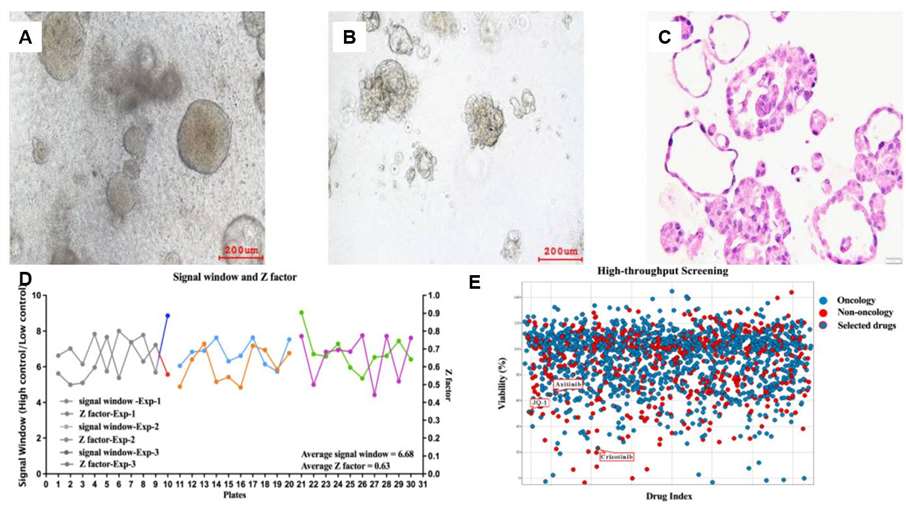 Fig. 2 Constructed Xp11.2 translocation RCC (RCCXp11.2) PDO model, representative brightfield (A-B) and HE staining (C) images. Establishment and evaluation of detection methods for fusion renal cancer (D). Primary screening of 1816 compounds in HTS assay (E). (Cao C, et al., 2022)

Fig. 3 Typical bright-field photographs (A-D) of PDOs in triple-negative breast cancer (TNBC). HTS results of TNBC-based PDOs (E). Response of TNBC-based PDOs to typical compounds (F).
If you have any special needs or questions regarding our services, please feel free to contact us or make an online inquiry. We look forward to cooperating with you in the future.
Reference
Cao C, et al. (2022). "Phenotypical screening on metastatic PRCC-TFE3 fusion translocation renal cell carcinoma organoids reveals potential therapeutic agents." Clin Transl Oncol. 24 (7), 1333-1346.
For research use only. Not for any other purpose.