MRL strain carrying a spontaneous mutation named lpr for lymphoproliferation is known as an autoimmune disorder that closely resembles human systemic lupus erythematosus (SLE). Both female and male MRL/lpr mice are characterized by systemic autoimmunity and immune complex glomerulonephritis and arthritis starting at about 10-12 weeks of age. In addition, this is a rapid and severe disease model compared with other spontaneous models. Creative bioarray provides you with MRL/lpr mouse model to study the genetic underpinning of SLE and test the efficacy of drug candidates targeting SLE.
Our capabilities
We detect autoantibodies in animal serum by ELISA, Immunofluorescence, etc.
We evaluate various cytokines through IHC, ELISA, etc.
We identify Immunocyte subsets in spleens by flow cytometry.
Assays available
PK/PD blood collections
Quantitative detection of Anti-dsDNA and total IgG by ELISA
Clinical chemistry analysis
Histopathological evaluation
Cytokine/chemokine analysis
Flow cytometry in lymph nodes, spleen or bone marrow
Organ weights (kidneys, spleen, lymph nodes)
Survival rate
With outstanding experience in the field of SLE, we are confident to help you to overcome any upcoming challenges. Our experts are fully capable of customizing our protocols and assays to meet your specific needs. With our help, we wish to facilitate your research with high efficiency.
Study examples

Figure. 1. miR-183 mimics reduces renal function in LN mice. MRL/lpr mice were received intraperitoneal injection with either miR-183 mimic (183 group) or miRNA-control (LN group) at a dose of 1 nmol per mouse twice per week from 12 weeks to 28 weeks of age. The sex- and age-matched C57BL/6 mice (Ctrl group) were used as a control group.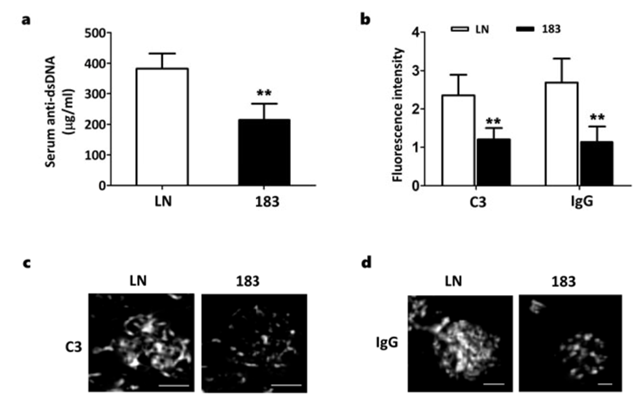 Figure. 2. miR-183 mimics reduces serum anti-dsDNA antibody and renal deposition of immune complex in LN mice.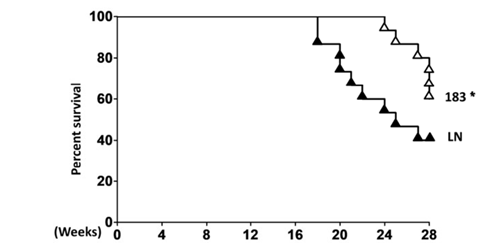 Figure. 3. miR-183 mimics increased the survival rate of LN mice.
Quotation and ordering
If you have any special needs or questions regarding our services, please feel free to contact us at 631-626-9181 or info@creative-bioarray.com. We look forward to cooperating with you in the future.
Reference
Li X et al. MiR-183 delivery attenuates murine lupus nephritis-related injuries via targeting mTOR. Scand J Immunol. 2019 Jul 20.
For research use only. Not for any other purpose.