You are here: Home
CDX-based Drug Screening
CDX-based Drug Screening
Immunotherapy has recently emerged as a viable approach to cancer treatment. Although the recent clinical trials validate the overall approach of immunotherapy and hint at a greater potential, most patients still need more effective treatments, underscoring the heterogeneity of human antitumor immune responses. Unfortunately, our understanding of human cancer immunology is currently limited. However, mouse tumor models remain an almost obligatory stepping stone to undertaking studies in patients with cancer.
Cell line-Derived Xenograft (CDX) model is a well-established and commonly used mouse tumor model type for the research and development of anti-tumor drugs and immunotherapy. More recently, human tumors implanted directly into immunodeficient mice have become increasingly popular as evidence accrues that they more accurately recapitulate features of patient tumors. However, CDX model still possesses pervasive application at the early stage of in vivo study, due to its user-friendly techniques as well as excellent repeatability.
With years of operational experience and technology platform of CDX models, Creative Bioarray focuses on anti-tumor drug research and development services to help customers assess the efficacy of compounds and study the associated pathological mechanisms.
Species available
Nude mice
SCID mice
Nude rats
Applications
Therapeutic drug clinical testing
In vivo pharmacological and pharmacodynamic detection
Study and research on the development of oncology and immunotherapy
Our capabilities
Platform with various types of tumor cells
The most commonly used models to study human cancers
User-friendly techniques as well as excellent repeatability
High efficiency of xenoplastic transplantation
Fast turnaround time
Strict QC tests
Customized services
With extensive experience in the field of CDX models, we are confident to help you overcome any upcoming challenges. Our experts are fully capable of customizing our protocols and assays to meet your specific needs. With our help, we wish to facilitate your research with high efficiency.
Study examples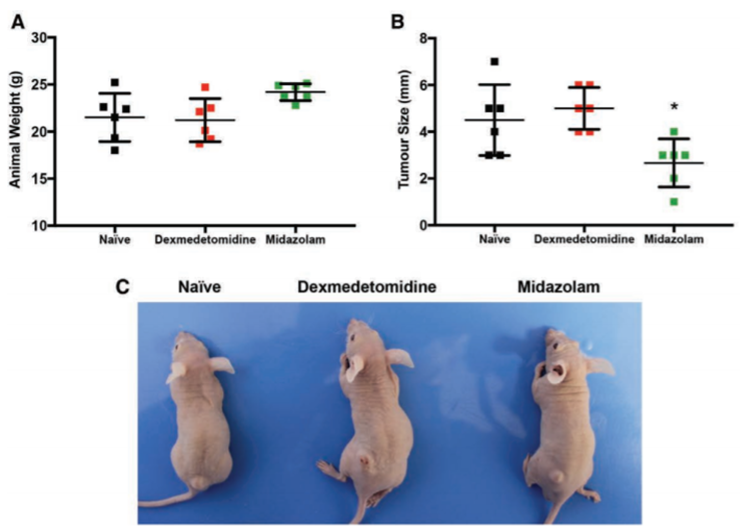 Figure. 1. Effects of dexmedetomidine and midazolam on A549 tumors in vivo. Mice with A549 tumors were treated daily for five days with saline, dexmedetomidine (0.5mg/kg per day), or midazolam (2.5mg/kg per day) via subcutaneous injection. No differences in animal weight (A) were detected, but midazolam significantly decreased tumor size (B). Representative photos taken of a mouse from each group before euthanasia; two of six mice treated with dexmedetomidine were observed to have red spots or scarring on tumor (C).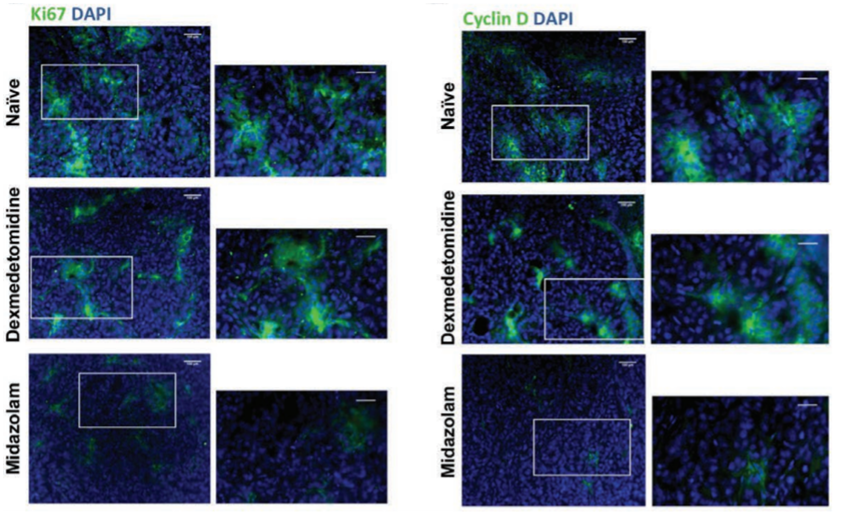 Figure. 2. Representative images of immunofluorescence staining of Ki67 and cyclin D from tumor sections showed an increase in both proteins in dexmedetomidine-treated mice and a decrease in midazolam-treated mice.
Quotation and ordering
If you have any special needs or questions regarding our services, please feel free to contact us. We look forward to cooperating with you in the future.
Reference
Chunyan, Wang, Tanweer, et al. Midazolam and Dexmedetomidine Affect Neuroglioma and Lung Carcinoma Cell Biology In Vitro and In Vivo.[J]. Anesthesiology, 2018.
For research use only. Not for any other purpose.