You are here: Home
Inflammation and Autoimmune Disease Models
Inflammation and Autoimmune Disease Models
Inflammation and autoimmune is a physiological phenomenon by which the white blood cells and the substances they produce to against foreign organisms (such as bacteria and viruses). However, in some cases, the immune system can also trigger an inflammatory response without foreign invasion. In these inflammation and autoimmune diseases, the tissues are often damaged by their own immune systems. And the whole body reacts as if it were infected by a foreign organism.
To develop drugs against such diseases, researchers typically avoid harming patients and instead use animal disease models. We provide a number of validated models of inflammatory and autoimmune diseases, including arthritis, psoriasis, colitis, and immune disease (CIA, DTH, PCA, EAE). Each disease type has a different model that provides different disease parameters for your candidate compounds.
Our inflammatory and autoimmune disease models can serve as the assay basis for analysis of biomarkers and provide accurate experimental capabilities to elucidate the role of candidate compounds in the treatment of each disease.
Our Inflammation and Autoimmune Disease Models cover the following diseases
Rheumatoid arthritis
Imiquimod (IMQ) induced-psoriasis
Inflammatory bowel disease
Immune disease (CIA, DTH, PCA, EAE)
Non-Immune inflammatory
Compound 48/80-induced scratching behavior
Peripheral neuroinflammation
Systemic lupus erythematosus
We provide highly customizable services
Innovative approach to projects
Extensive in vitro analysis including PCR, histology, and IHC
Timely and effective communication
Data & Figures: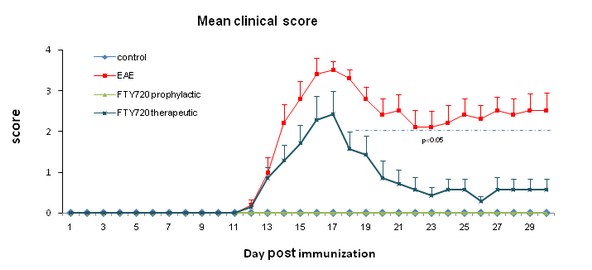 Figure 1. MOG35-55 induced Experimental Autoimmune Encephalomyolitis (EAE)
Our team combine different disease models to provide a variety of assay support to explain the therapeutic mechanism and pharmacokinetic parameters of the candidate compounds.
Quotation and ordering
We have extensive experience in developing disease models based on scientific publications. We are constantly developing new models. If you are interested in any one disease model, please contact us.
Reference
Stefan Bittner. MOG35-55 Induced Experimental Autoimmune Encephalomyelitis (EAE) in C57BL/6 Mice. Journal of Visualized Experiments 86, (2014).
For research use only. Not for any other purpose.