You are here: Home
In vitro Pigmented Skin Model
In vitro Pigmented Skin Model
The skin is an essential organ to our survival. Skin pigmentation is mainly due to melanin, which is a pigment synthesized by melanocytes and transferred to the cytoplasm of the keratinocytes. Disturbances of its synthesis lead to abnormal pigmentation of the skin (lack of skin pigmentation or skin patches).
Diseases that affect the skin (e.g. pigmentation disorders, burns, chronic wounds and skin cancer) are common and in some cases require an allograft. Since the demand for skin tissue largely exceeds the supply there is a substantial waiting list. There is an unquestionable need for developing autologous skin equivalents that could be expanded in vitro and then grafted as a personalized regenerative medicine approach. In vitro 3D Pigmented Skin Model can be a skin substitutes as replacement for animal testing to the cosmetic and dermatology industry.
Creative Bioarray developed a 3D human Pigmented Skin Model, which can be applied to investigate the regulatory mechanisms involved in skin pigmentation and evaluate transdermal gene and drug delivery.
Creative Bioarray human Pigmented Skin Model is composed of normal human keratinocytes cultivated in the presence of melanocytes of phototype II, IV or VI in the basal layer. Different tanning degrees of the skin constructs are available.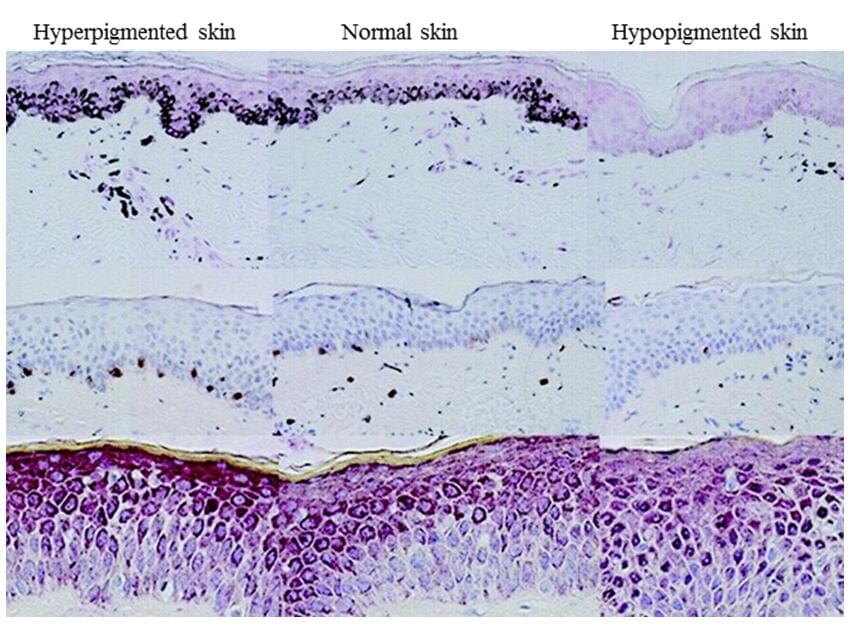 Fig.1 3D Pigmented Skin Model produced from fibroblasts, keratinocytes and melanocytes have normal architecture.
Specific Markers
Melanocytes localized in the basal cell layer interspersed with basal cell keratinocytes
Melanocyte dendricity
Melanosome transfer
Melanin distribution in the basal layer
Ki 67, gp-100, Fontana-Masson, loricrin, keratin-1, keratin-14
The expression of specific markers of melanogenesis: TYR, TRP-1, Pmel17, MITF, etc.
Tyrosinase activity and expression
Measurement of neurotransmitters released by the sensory neurons (conditioned medium)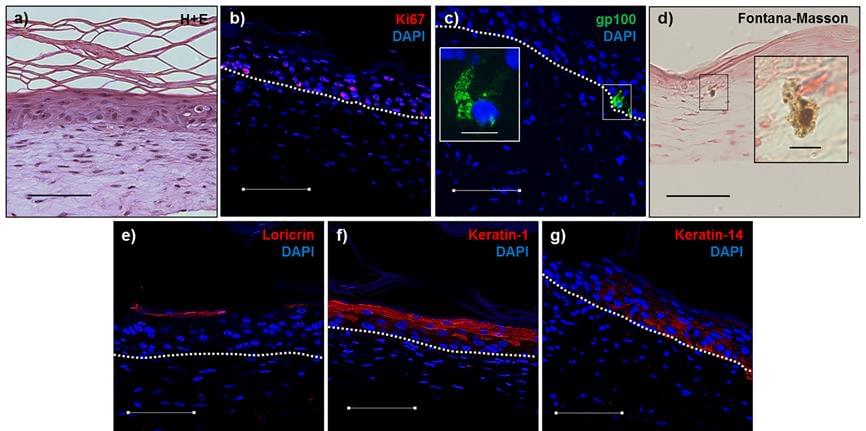 Fig.2 3D Pigmented Skin model produced from fibroblasts, keratinocytes and melanocytes have normal architecture and are functional. a) Hematoxylin and eosin, b) Ki67, c) gp-100, d) Fontana-Masson, e) loricrin, f) keratin-1, g) keratin-14. Blue (DAPI), dashed line (basement membrane). Inset c) (enlarged image showing an iPSC-derived melanocyte in the basal layer of the epidermis). Inset d) (enlarged image showing an iPSC-derived melanocyte producing melanin). h & i) Control and forskolin-treated iPSC-derived 3D skin equivalents, respectively, after 14 days at the air-liquid interface. j) Quantification of melanin increase in 3D skin equivalents in response to 40 μM forskolin.
Applications
Quote and ordering
Our customer service representatives are available 24hr a day! We thank you for choosing Creative Bioarray services!
Related models
In vitro Reconstructed Human Epidermis (RHE)
In vitro Full Thickness Skin Model
Ex vivo Skin Explants
Neurodermatology Skin Model
Psoriasis Skin Model
For research use only. Not for any other purpose.