Cuprizone (bis-cyclohexanone oxaldihydrazone) induced mouse model recapitulates several MS pathological features in human, including apoptosis of oligodendrocytes, demyelination, microglia activation and infiltration of macrophages. Typical demyelination can be observed after five weeks of cuprizone exposure in mice. Once cuprizone administration is stopped, spontaneous remyelination will subsequently take place in these model animals. Creative Bioarray focuses on drug research and development services and helps customers explore effective therapeutic approaches targeting demyelination and remyelination in multiple brain regions such as corpus callosum and cerebellum.
Work Flow

Figure. 1. Example of the cuprizone induced mouse model study paradigm
Our Capabilities
We utilize cuprizone induced mouse model to explore effective therapeutic options for demyelination of the central nervous system.
We detect CC demyelination by Luxol Fast Blue (LFB) staining and MRI.
We quantitatively assess myelination of the corpus callosum through demyelination score system.
We evaluate the number of oligodendrocytes, astrocytes, macrophages and microglia via IHC.
Assays Available
Histopathological evaluation
LFB staining
MRI
With extensive experience in the field of MS, we are confident to help you to overcome any upcoming challenges. Our experts are fully capable of customizing our protocols and assays to meet your specific needs. With our help, we wish to facilitate your research with high efficiency.
Study Examples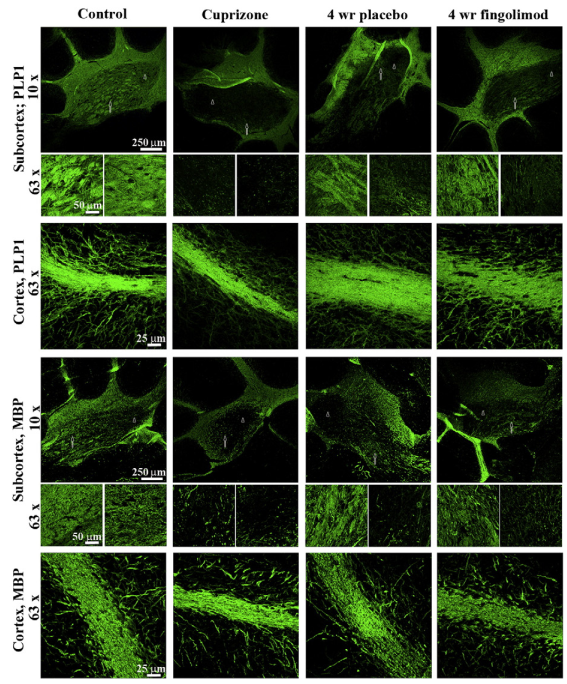 Figure. 2. Representative pictures show myelination (PLP1 and MBP) in the subcortex and cortex of mouse cerebellum for control, 5 weeks of cuprizone exposure and after 4 weeks of fingolimod/placebo treatment.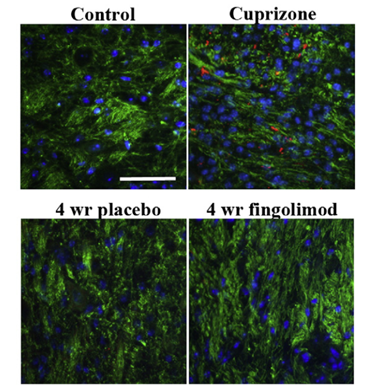 Figure. 3. Subcortical β-APP (red) and neurofilament (green) staining of control, after 5 weeks of cuprizone exposure and after 4 weeks of recovery.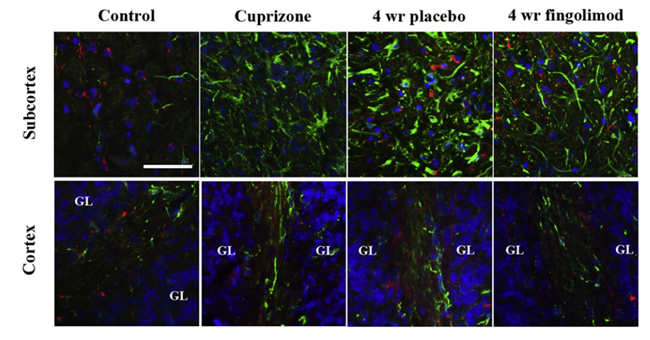 Figure. 4. NOGO-A positive mature oligodendrocytes (red) and GFAP-expressing astrocytes (green) in subcortex and cortex in control, 5 weeks of cuprizone exposure and after 4 weeks of recovery.
Quotation and Ordering
If you have any special needs or questions regarding our services, please feel free to contact us at 631-626-9181 or info@creative-bioarray.com. We look forward to cooperating with you in the future.
Reference
Maria Nordheim Alme, et al. Fingolimod does not enhance cerebellar remyelination in the cuprizone model[J]. Journal of Neuroimmunology, 2015, 285:180-186.
For research use only. Not for any other purpose.