You are here: Home
Stability Testing
Stability Testing
Creative Bioarray offers genetic stability testing to characterize master cell banks (MCB), master working cell banks (MWCB) and end of production cells (EOPC) from bacterial, yeast, insect and mammalian cell cultures. We provide a full range of assays for the characterization of manufacturing substrates in accordance with regulatory guidelines.
The evaluation of stability may necessitate complex analytical methodologies. Assays for biological activity, where applicable, should be part of the pivotal stability studies.
Creative Bioarray provides the following GMP and GLP services to determine the genetic stability of recombinant products and to characterize plasmid products:
Confirmation of structure map
Restriction endonuclease analysis
Confirmatory DNA sequence of plasmids
Retention of recombinant construct
Retention of selectable marker
Determination of yeast prototrophy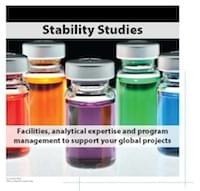 Our consultants are available to give you advice on which tests are suitable for you. No matter what your industry, product or sample is, our focus will always be on getting accurate results to help inform broader quality control decisions.
For more information please contact us to discuss your stability testing project.
For research use only. Not for any other purpose.