You are here: Home
Wound Healing
Wound Healing

A better understanding of the wound healing process leads to generating better products that aid in healing hard-to-heal wounds such as chronic wounds. Cell migration during the wound healing process is an important step of a complete healing. In vivo, the wound healing process includes different cell types (macrophages, fibroblasts, and keratinocytes) coming in and out of the wound bed at different time points. Mimicking the in vivo milieu with an in vitro 3D model will assist wound healing scientists to better understand the wound healing or re-epithelialization process and aid companies in generating better products of helping with hard-to-heal acute wounds and chronic wounds.
Creative Bioarray provides in vitro 3D skin tissue models and evaluation assays to support cosmetic or dermatological industries in generating products of helping with wound healing or re-epithelialization.
Your Needs
You are looking for a skin model to perform in vitro wound healing testing?
You wish to screen ingredients, and characterize the efficacy or toxicity or safety of any products or chemicals of wound healing?
You'd like to find a customized in vitro testing service of wound healing?
Our Capability
In vitro 3D skin models available
Screening assays available
Evaluating effects of active compounds related to wound healing
Evaluating effects of different formulations
Endpoints
Cell proliferation
Migration ("scratch" assay, Boyden chambers)
Invasion (Boyden chambers)
Sequential expression of tissue repair markers(cytokine secretion, protease activities).
Inflammatory response
Neovascularization and neuritogenesis
Extracellular matrix synthesis, fibrosis and myofibroblast interaction
Dermal remodeling and epidermal differentiation
Techniques
qPCR, qPCRarray, RT-PCR
Epidermal separation
Immunofluorescence
ELISA
RNA extraction
Protein extraction
Macroscopy
Assay Examples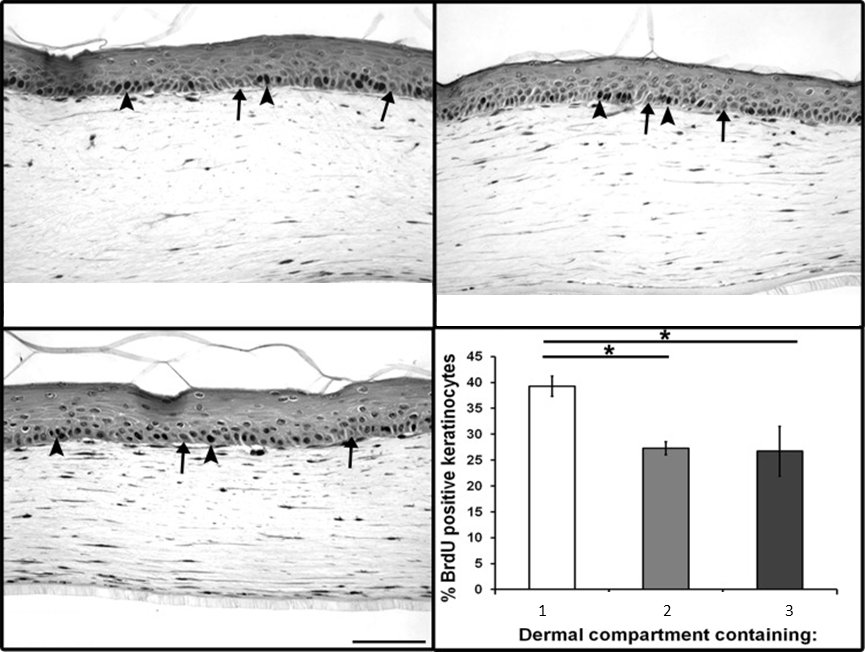 Fig1. Increased basal keratinocyte proliferation in 3D FTSK model. Representative images of tissue sections stained for BrdU incorporation are shown (arrowheads mark examples of BrdU-stained nuclei, and arrows mark examples of BrdU-negative nuclei). Quantification of mean percentage of basal keratinocytes positive for BrdU±SD. FTSK, full thickness skin model.
Related Products and Services
Choose our models to perform screening assays in house, or choose our assays and services directly!!
Compound screening service
Our customer service representatives are available 24hr a day! We thank you for choosing Creative Bioarray services!
In vitro Skin Models:
For research use only. Not for any other purpose.