You are here: Home
In vitro Neurodermatology Cell Model
In vitro Neurodermatology Cell Model
Skin and the central and/or peripheral nervous system share a common source (the ectoderm). Skin is the first interface between the human body and outside environment. Any variations in this environment like sun exposure, temperature change or any applications of substances on the skin can be detected by sensory neurons, and then an antidromic action potential is emitted which elicits neurotransmitters to be released, and then allows for an immediate response of the skin cells.
Creative Bioarray provides In vitro Neurodermatology cell model generated by co-culturing of sensory neurons and skin cells, which can better simulate in vivo human skin and provide innovative solutions to the dermo-pharmaceutical and cosmetic industries.
Creative Bioarray co-culture cell system
Primary cultures of sensory neurons
Co- culture of sensory neurons and keratinocytes
Nerve-muscle co-culture
Dorsal Root Ganglion explant with and without target
The co-culture of keratinocytes and melanocytes
Specific Makers and measure endpoints
Sensory neuron endings analysis and free nerve endings quantification
Specific receptors (TRPV1, TrkA …)
Model of nerve-muscle co-culture: spontaneous contractions of muscle fibers and analysis of myorelaxant effect
Calcium mobilisation by sensory neurons
Neurotransmitters released by the sensory neurons (CGRP, Substance P, …)
Cytokines released by keratinocytes (IL-6, IL-8, IL- 1β)
Neurotransmitters released by the sensory neurons (conditioned medium)
Marked melanin produced by melanocytes
Neurotransmitters released by the sensory neurons (CGRP , Substance P , …)
Cytokine released by keratinocytes (IGF-1 , VEGF, bFGF … )
Meurotransmitters released by the sensory neurons (CGRP, substance P)
Cytokines released by keratinocytes (IL-6 , IL-8 , IL- 1β )
Number of sensory neuron endings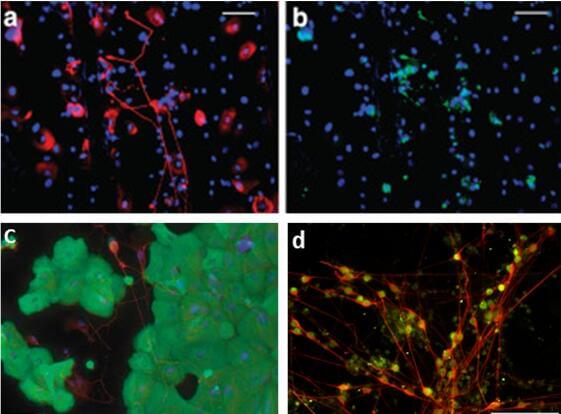 Fig.1 Co-culture models containing dermal fibroblasts and keratinocytes were cultured for 13 days. (a–b) Neurite outgrowth induced by healthy keratinocytes. Neurites were stained for polyclonal anti-protein gene product 9.5 (PGP9.5) (red) and calcitonin gene-related peptide (CGRP) (green). Nuclei were detected with (DAPI) (blue). (c) A representative co-culture showing the proximity between DRG neurons and keratinocytes, immunostained with antibodies; anti-β-tubulin III for DRG (red), anti-MK14 for keratinocytes (green) and DAPI for nuclei (blue).  (d) Cells also expressed peripherin and Brn3a, markers of sensory neurons.
Applications
Inflammatory skin disorders
Soothing
Warming sensation
Microcirculation
Hair growth
Quote and ordering
Our customer service representatives are available 24hr a day! We thank you for choosing Creative Bioarray services!
Related models
In vitro Reconstructed Human Epidermis (RHE)
In vitro Full Thickness Skin Model
Ex vivo Skin Explants
Pigmented Epidermis Model
Psoriasis Skin Model
For research use only. Not for any other purpose.