You are here: Home
Soft Agar Colony Formation Assay Service
Soft Agar Colony Formation Assay Service
Anchorage-independent cell growth demonstrates the ability of transformed cells to proliferate independently in semi-solid culture medium (e.g. soft agar). It is one of the hallmarks of carcinogenesis. The soft agar colony formation assay is a well-established method used to monitor anchorage-independent growth in vitro, which is considered as the most stringent assay for detecting the tumorigenic potential of transformed cells.
In the soft agar assay, a bottom layer of soft agar is plated and solidified first, followed by seeding of cells in the top soft agar layer. This approach prevents cells from attaching to the bottom of culture plate/dish, allowing transformed cells to form colonies. The principle of this assay suggests that normal adherent cells are unable to grow and divide without anchorage to the extracellular matrix and undergo apoptosis. In contrast, transformed cells are able to grow without adherent condition. Thus, cells capable of forming colonies in soft agar are considered to be transformed and carcinogenic.
Creative Bioarray offers soft agar colony formation assay service to support your research. This assay can be used in cell differentiation, cell transformation, and tumorigenesis studies as well as the efficacy evaluation of anti-tumor therapeutics.
For this assay, cells (treated with test compounds) are cultured with appropriate controls in soft agar medium for 14~28 days. Following this incubation period, newly formed colonies can be analyzed morphologically and quantitatively.

Figure 1. Schematic Overview of Soft Agar Colony Formation Assay Protocol.
Assay Procedure
Coat the plate with the bottom agar layer
Plate the top agar layer containing cells, followed by drug treatment
Incubate for 14-28 days and feed cells twice a week
Count and analyze the colonies larger than 70 µm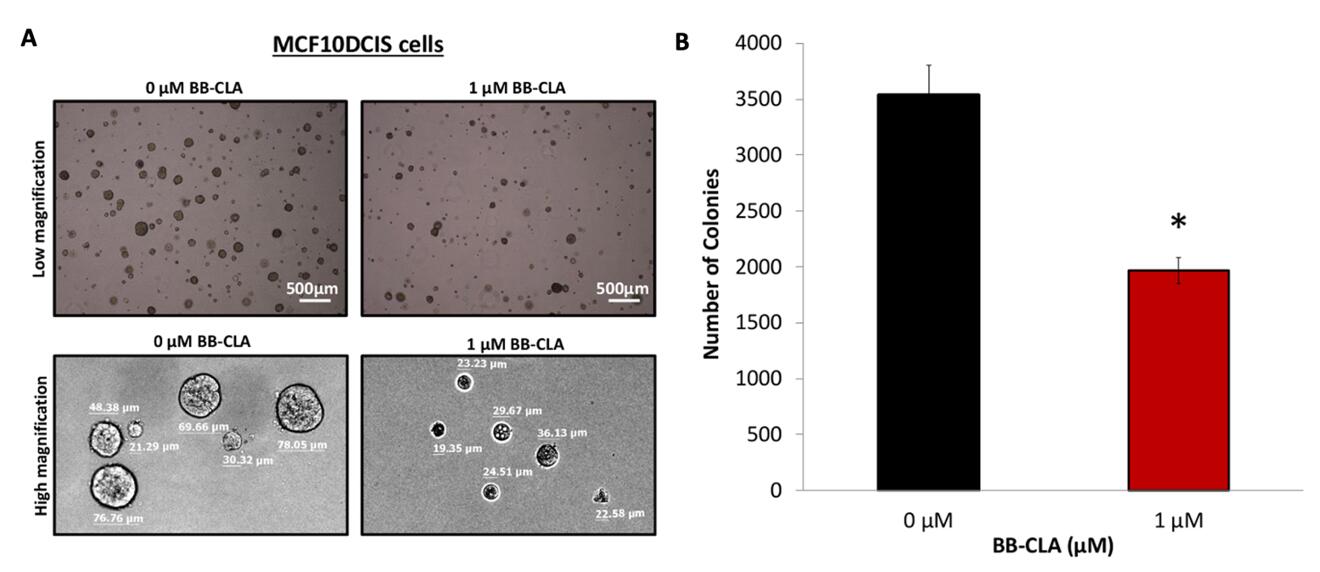 Figure 2. Images (A) and Colony Count (B) for MCF10DCIS Cells with or without BB-CLA Treatment in Soft Agar.
Advantages
Fast, convenient, and accurate
Cell lines and conditions can be established upon request
Finding transformation targets
Allowing profiling of test compounds in physiological relevant environment
Study Example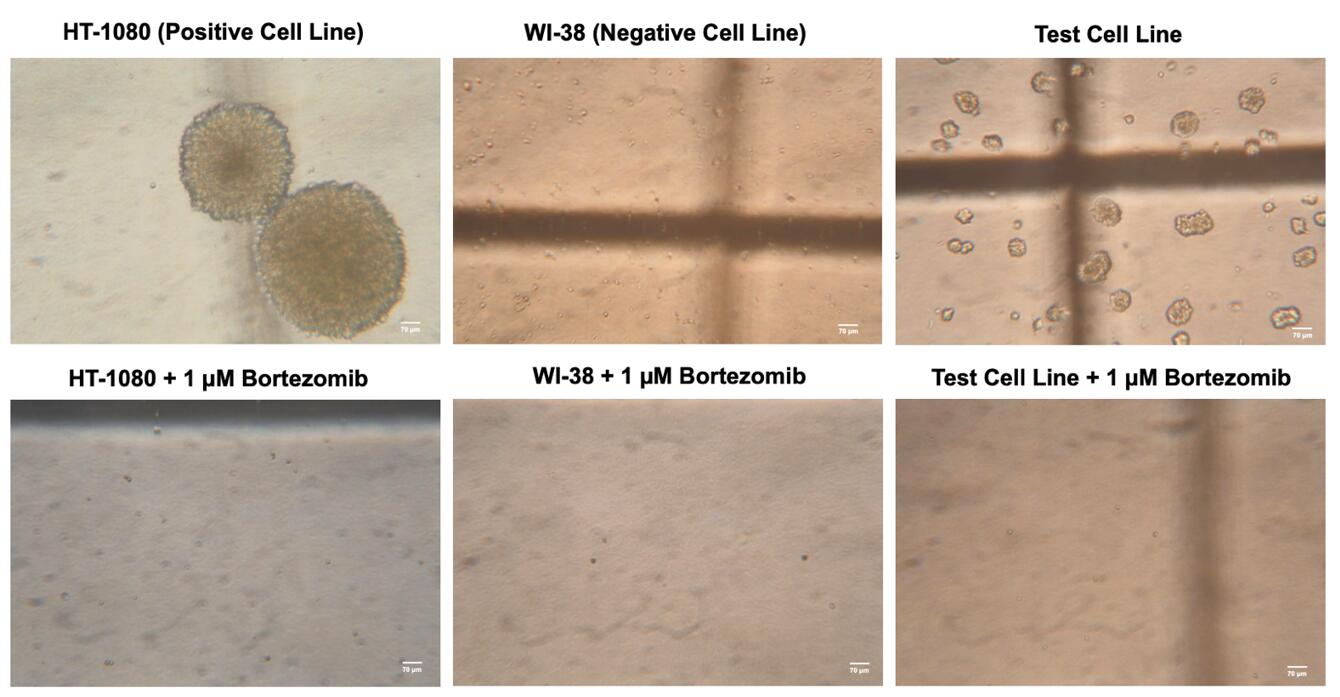 Figure 3. Images for the test cell line and positive and negative control cell lines with and without the addition of bortezomib at 1 µM in the soft agar assay (scale bar, 70 µm).
Contact Us Today
If you are interested in our soft agar colony formation assay and would like to find out more, please contact us today. Our scientists would be happy to answer your questions. We look forward to hearing from you. Reach us now for support.
References
Borowicz S, et al. The soft agar colony formation assay. J Vis Exp. 2014;(92):e51998. Published 2014 Oct 27. doi:10.3791/51998.
Horibata S, et al. Utilization of the Soft Agar Colony Formation Assay to Identify Inhibitors of Tumorigenicity in Breast Cancer Cells. J Vis Exp. 2015;(99):e52727. Published 2015 May 20. doi:10.3791/52727.
Anderson SN, et al. A high-throughput soft agar assay for identification of anticancer compound. J Biomol Screen. 2007 Oct;12(7):938-45. doi: 10.1177/1087057107306130.
For research use only. Not for any other purpose.