You are here: Home
Metabolic Disease Models
Metabolic Disease Models
With increasing incidence of metabolic diseases, these diseases have attracted wide attention in the medical field all over the world. It is estimated that about 20-25% of adults in the world suffer from metabolic diseases. Meanwhile, as a syndrome, metabolic diseases have no single cause.
The use of animals in experimentation was and continues to be of great importance in medical research. Animal models of metabolic diseases provide an opportunity to examine correlations among different metabolic parameters. Creative Bioarray provides professional drug testing services using these models.
Methods used to induce diseases in rodents include dietary manipulation, genetic modification, and drugs. Our pharmacology team developed a variety of metabolic disease models based on customer requirements to test the efficiency of drugs. Multiple species are available, such as non-human primates, dogs, mice and rats, rabbits and guinea pigs.
Our portfolio of metabolic disease models cover the following diseases
Obesity
Type 1 Diabetes
Type 2 Diabetes (NAFLD & NASH)
Organ damage (UUO, CKD)
Hyperuricemia
Dyslipidemia
We provide highly customizable services
Changing the light/dark cycle
Individualized sample collection
Biomarker analysis
assays of multiple cytokines, mRNA, histology and immunohistochemistry
Data & Figures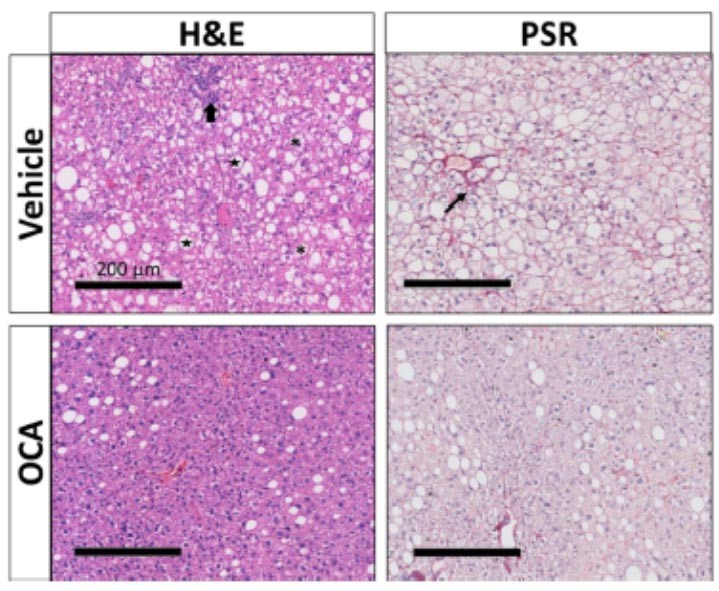 Figure1. OCA treatment improves hepatic ballooning in NASH models.
In addition, our professionals have the expertise and research equipment to study the interaction between microbiome and metabolic diseases, which attribute important new aspects to your drug development research.
Quotation and ordering
We have extensive experience in developing disease models based on scientific publications. To discuss any of these models further or to discuss the possibility of developing alternative models, please do not hesitate to contact us.
Reference
Wong, S. K., Chin, K.-Y., Suhaimi, F. H. Animal models of metabolic syndrome: a review. Nutr. Metab. 13, (2016).
For research use only. Not for any other purpose.