You are here: Home
Digital Spatial Profiling
Digital Spatial Profiling
Digital Spatial Profiling (DSP) is a nondestructive method for high-plex spatial profiling of proteins and RNA from a wide variety of sample types, including formalin-fixed, paraffin-embedded (FFPE) tissue sections. This method uses small photocleavable oligonucleotide "barcodes" covalently attached to in-situ affinity reagents (antibodies and RNA-probes) to provide unlimited multiplexing capability. Spatial Profiling is useful for examining cellular interactions, tissue heterogeneity, pathogenicity, and response to therapy.
In the ear of immune-oncology. It is critical to unravel mechanism of action underlying sensitivity or resistance to current immunotherapies in order to identify predictive biomarkers of response and then discover novel actionable therapeutic targets. The Nanostring GeoMx Digital Spatial Profiling platform enables the measurement of patterns of gene expression in specific targeted areas of interest on tumor sections to identify gene or pathway activation differences that may provide information on potential diagnostic markers or pathway activation differences that may provide information on potential diagnostic markers or therapeutic targets.
Start from specimens as simple as FFPE tissue samples, this novel technology offers through selected panels the simultaneous analysis of up to 96 mRNAs or 10-100 proteins in several regions of interest (ROIs) divided in two compartments.
Full Service Workflow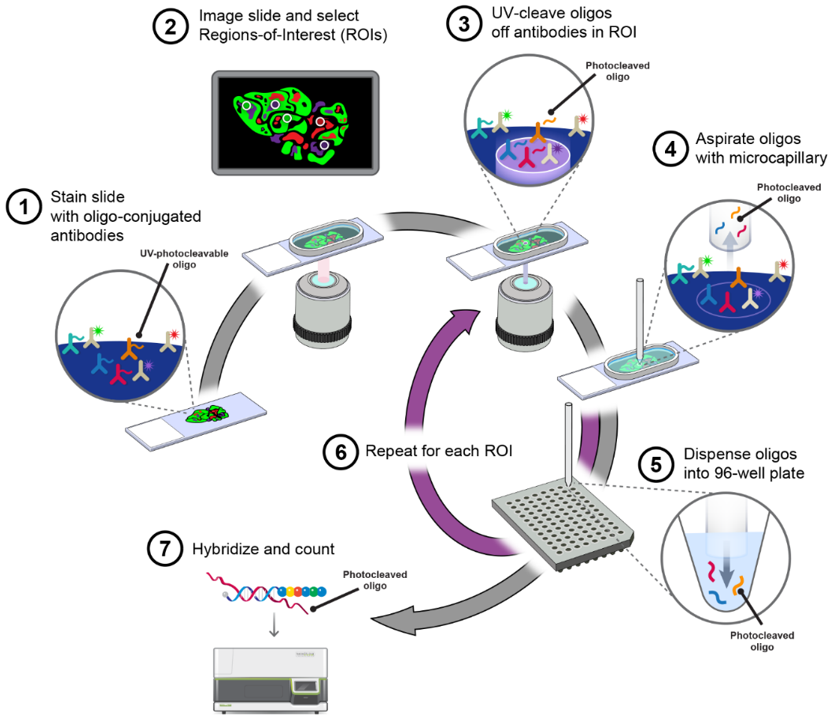 Highlights
Non-invasive approach preserving sample integrity
Highly multiplexed RNA or protein detection- up to 1800 targets in a run from a single FFPE section
Whole slide imaging with up to 4 fluorescent channels to capture tissue morphology and select regions of interest (ROI) for high-plex profiling
Possible multianalyte analysis for deep sample characterization
Digital quantitation with integrated data normalization and analysis
Applications
Investigate heterogeneity and microenvironments of tumors
Identify genes associated with lymphocyte tumor infiltration
Characterize markers of immune response
Profile normal and diseased tissue in the same sample
Compare pluripotent and differentiated cells
Characterize disease pathology
Monitor therapeutic response
Quotation and ordering
Call us today or email us for a quotation or if any questions! Our customer service representatives are available 24hr a day! We thank you for choosing Creative Bioarray at your preferred Digital Spatial Profiling (DSP).
For research use only. Not for any other purpose.