You are here: Home
Liver Fibrosis Model
Liver Fibrosis Model
Liver fibrosis is a wound healing response to insults and is the final common pathway of chronic liver disease of various etiologies, which can progress into more severe stages, such as liver cirrhosis, liver failure and hepatocellular carcinoma. The activation of hepatic stellate cells, portal fibroblasts, and myofibroblasts of bone marrow origin is the most important event in liver fibrosis. Currently, lots of patients suffer from liver fibrosis because of alcohol abuse, chronic hepatitis virus infection and non-alcoholic steatohepatitis worldwide.
Animals of liver fibrosis are used as models to study liver fibrosis in human and test subjects for the development and testing of drugs, vaccines, and other biologicals.
Creative Bioarray specializes in providing customized pharmacodynamic research services to help customers assess the efficacy of drug candidates and study the associated pathological mechanisms through liver fibrosis models.
Animal models of liver fibrosis include but not limited to the following:
Chemical-Induced Liver Fibrosis Models

Carbon Tetrachloride-Induced Liver Fibrosis Model
Thioacetamide-Induced Liver Fibrosis Model

Diet-Induced Liver Fibrosis Models

Methionine-Deficient and Choline-Deficient Diet-Induced Liver Fibrosis Model

Genetically Modified Models

Multidrug Resistance-Associated Protein 2-Deficient Mice
Alms1Fat Ausi Mutant Mice
Species available
Our capabilities
Liver fibrosis in animal is induced by twice weekly intraperitoneal injections of CCl4.
We evaluate the degree of liver fibrosis by Hematoxylin and Eosin (H&E) and Masson's trichrome.
We assess the apoptosis of the paraffin-embedded liver sections of mice/rat by TUNEL staining and immunofluorescent staining.
Assays available
Biochemical analysis 
Pathological evaluation
With extensive experience in the field of liver fibrosis, we are confident to help you overcome any upcoming challenges. Our experts are fully capable of customizing our protocols and assays to meet your specific needs. With our help, we wish to facilitate your research with high efficiency.
Study examples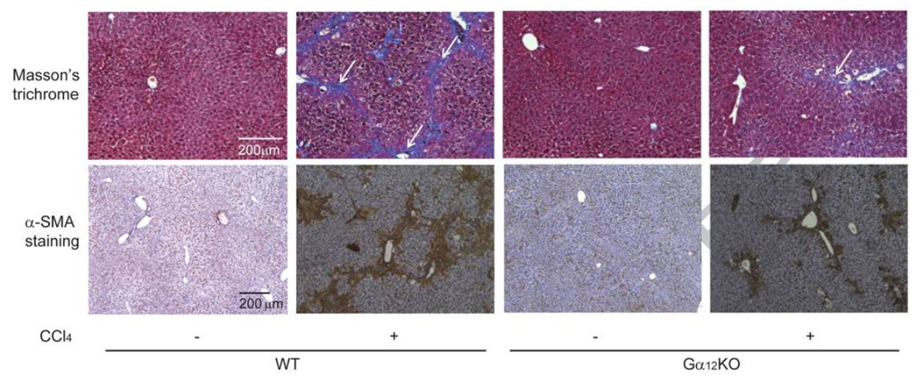 Figure. 1. Liver fibrosis is inhibited by Gα12KO. Masson's trichrome staining and α-SMA staining of liver tissue of different treatment group.

Figure. 2. Liver fibrosis is inhibited by Gα12KO. H&E staining of liver tissue of different treatment group.
Quotation and ordering
If you have any special needs or questions regarding our services, please feel free to contact us. We look forward to cooperating with you in the future.
Reference
Kyu Min Kim, etal. Gα12 overexpression induced by miR-16 dysregulation contributes to liver fibrosis by promoting autophagy in hepatic stellate cells[J]. Journal of Hepatology: The Journal of the European Association for the Study of the Liver, 2018.
For research use only. Not for any other purpose.