You are here: Home
3D Hepatotoxicity Screening
3D Hepatotoxicity Screening
Creative Bioarray is offering hepatotoxicity screening service using 3D cell culture models derived from hepatocytes of several different species. As a world-class supplier of 3D cell culture models, which also has extensive experience in drug discovery through years of practice, Creative Bioarray is able to provide you with highly reliable data on drug hepatotoxicity.
Since detoxification is mainly carried out by liver, the liver is most likely to suffer from drug toxicity, making hepatotoxicity the most common cause of drug withdrawals between 1953 and 20131. Hepatotoxicity evaluation is thus an essential part of drug safety testing. Compared to traditional 2D models, 3D cell cultures better resemble the complex in vivo microenvironment and also allow long-term toxicity studies that last for weeks to provide more reliable data regarding to drug safety.
In this screening assay, hepatocyte spheroids are exposed to compounds to be tested as well as positive and negative controls for a considerable length of time. Multi-parametric data (ATP content and other endpoints) can be monitored and analyzed to better assess and predict drug hepatotoxicity. Combined readouts can better rule out false negative candidates which might not exhibit toxic effects with a single parameter. Accessible data include but are not limited to spheroid size and number, glutathione and ATP content, mitochondrial membrane potential, and oxidative stress.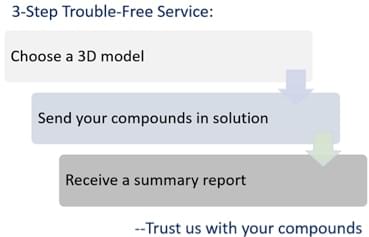 Our 3D hepatotoxicity screening assay can be carried out in either human or rat 3D hepatocyte spheroids (other species are also available upon request). Just notify us of your needs, and we will try our best to meet them. We will need information about the number of compounds you want to test and which species you want to test in. You will also need to provide us the compounds after you place your order.
Creative Bioarray is dedicated to accelerating the drug discovery process of our customers by providing high quality and considerate services. With our highly experienced scientific team, advanced techniques and equipment, we are able to tailor our services according to your needs. Creative Bioarray will be your best partner of choice which you can count on. Please feel free to contact us for more information.
Reference
Igho J. Onakpoya, Carl J. Heneghan, and Jeffrey K. Aronson, Post-marketing withdrawal of 462 medicinal products because of adverse drug reactions: a systematic review of the world literature. BMC Med. 2016; 14: 10. doi:  10.1186/s12916-016-0553-2
For research use only. Not for any other purpose.