Delayed-type hypersensitivity (DTH) is a useful model for assessing cell-mediated immune responses related to Th1 and Th17 reactivity. The delayed-type hypersensitivity reaction is mainly mediated by CD4+ or CD8+ T lymphocytes and consist of sensitization phase and challenge phase. The delayed-type hypersensitivity response is typically tested within 48 h after initial application.
Creative Bioarray, with a prestigious team in the industry, focuses on providing customized experiment services to help customers evaluate novel therapeutic interventions against DTH and study the basic mechanisms of DTH.
Delayed-type hypersensitivity (DTH) models include but not limited to:
keyhole limpet hemocyanin (KLH)-induced DTH model
oxazolone (OX)-induced DTH model
Our capabilities
We measure the differences in paw swelling and weight of mice after different treatments within 48 h post exposure.
We evaluate the impact of drug candidates on myeloperoxidase (MPO) activity and cytokine concentrations by Elisa assay.
Assays available
PK/PD blood collections
Histopathological evaluation
Cytokine analysis
Flow cytometry analysis
With extensive experience in the field of DTH, we are confident to help you to overcome any upcoming challenges. Our experts are fully capable of customizing our protocols and assays to meet your specific needs. With our help, we wish to facilitate your research with high efficiency.
Study examples
Figure. 1. Histopathological evaluation of cellular infiltrates in the ears from KLH induced mice treated with BIRB-796.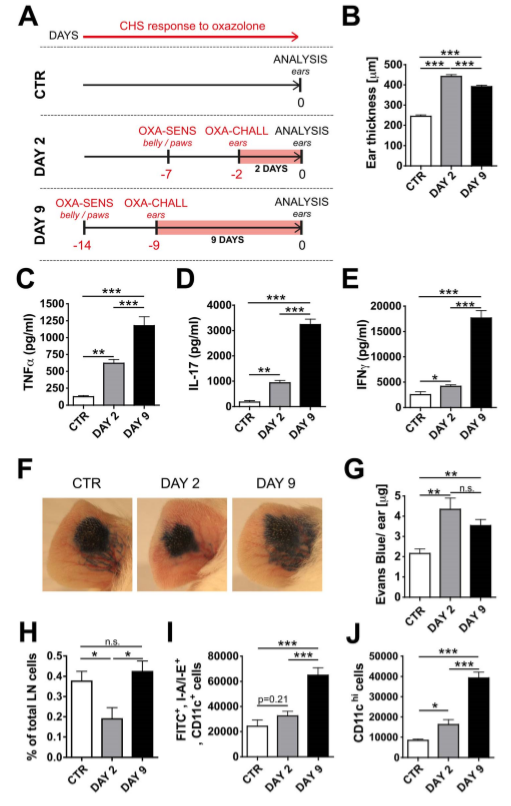 Figure. 2. Oxazolone (OX)-induced DTH in K14-VEGF-A-tg mice differentially alters tissue cytokines, lymphatic drainage and DC migration at the DAY 2 and DAY 9 time point.
Quotation and ordering
If you have any special needs or questions regarding our services, please feel free to contact us at 631-626-9181 or info@creative-bioarray.com. We look forward to cooperating with you in the future.
References
Aebischer D, Willrodt A H, Halin C. Oxazolone-Induced Contact Hypersensitivity Reduces Lymphatic Drainage but Enhances the Induction of Adaptive Immunity[J]. PLOS ONE, 2014, 9.
Engstrom L, et al. Characterization of a murine keyhole limpet hemocyanin (KLH)-delayed-type hypersensitivity (DTH) model: Role for p38 kinase[J]. International Immunopharmacology, 2009, 9(10):0-1227.
For research use only. Not for any other purpose.