You are here: Home
Skin Aging and Anti-aging
Skin Aging and Anti-aging

Skin is the largest and the most visible organ of the human body. Aged skin is biologically characterized by the flattening of the dermal-epidermal junction and a general atrophy of the extracellular matrix (ECM) with disorganized and reduced collagen and elastin. Skin aging reflects the naturally occurring changes in the skin as we age, and can also be accelerated due to exposure of the skin to sunlight and/or air pollution and is phenotypically demonstrated as dry, rough, pigmented and abraded skin especially in the face and hands.
In the past few years, significant progress has been made in the understanding of cell ageing mechanisms and we can now explore new dermo-cosmetics strategies which might prevent or decelerate the signs of ageing. The demand for an anti-aging therapy is higher day by day. A lot of treatments are available for skin aging now: pharmaceutical, surgical and cosmetic solutions, which aim to change the nature of aging collagen, stretching the skin, filling in the depressions of the skin and etc.
In order to identify most efficient applications of the new ingredients of anti-aging, the need for in vitro testing in cosmetic or dermatological industries is greatly growing nowadays, because of below aspects: firstly, regulatory affairs that include consumer safety and strict ban of animal use in testing. Secondly, there is a big advantage regarding research and development because of faster screening and access to more informative tests. Finally, this leads to on the evidence based communication with consumers.
Your Needs
You wish to screen ingredients, and characterize the efficacy or toxicity or safety of any products or chemicals of anti-aging?
You'd like to find a customized service of skin aging or anti-aging?
Our Capability
Creative Bioarray provides in vitro 3D skin tissue models and evaluation assays performed for cosmetic or dermatological efficacy and claims support of anti-aging.
In vitro 3D skin models available
Normal human dermal fibroblasts (NHDF)
Intrinsic ageing model (Aged senescent fibroblasts)
Photo-ageing model
Assays available
Evaluating efficacy, safety or toxicity of compounds for anti-aging
Evaluating effects of different formulations, ingredients
Other customized assays
Endpoints
Deposition of collagen, elastin, hyaluronic acid (mRNA, protein)
MMPs production (mRNA, protein, proteolytic activity)
Glycosaminoglycans (GAGs)
Reactive oxygen species (H2DCFDA)
Dermal markers: Fibrillin, Vimentin, collagen I, collagen III and elastin
Dermal-epidermal junction markers: Integrin B4, Laminin 5
Proliferation, migration, differentiation and apoptosis
DNA damage
Free radical production
Techniques
qPCR, qPCRarray, RT-PCR
Epidermal separation
Immunofluorescence
ELISA
RNA extraction
Protein extraction
Macroscopy
Assay Examples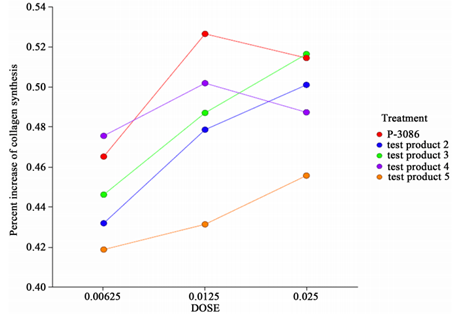 Fig 1. Percent increase of collagen synthesis versus untreated control by treatment and by dose
Related Products and Services
Choose our models to perform screening assays in house, or choose our assays and services directly!!
Compound screening service
Our customer service representatives are available 24hr a day! We thank you for choosing Creative Bioarray services!
In vitro Skin Models:
For research use only. Not for any other purpose.