Hyperlipoidemia is a condition caused by abnormal lipid metabolism or transport, such as Total cholesterol (TC), triglyceride (TG), high - density lipoprotein cholesterol (HDL-c) and low - density lipoprotein cholesterol (LDL-c). And it is one of the main risk factors for cardiovascular and cerebrovascular diseases, cancer, and diabetes. In recent years, the morbidity and mortality of hyperlipidemia has increased significantly, and it has become a major threat to human health.
Creative Bioarray specializes in providing customized pharmacodynamic research services to help customers assess the efficacy of drug candidates and study the associated pathological mechanisms through hyperlipoidemia model.
Models available
Hgih-fat diet induced rat/mouse model
Species available
Our capabilities
We screen novel preclinical drugs targeting hyperlipoidemia.
We detect inflammatory cytokines and enzymes by elisa.
We perform histopathological examination by H&E staining.
Assays available
PK/PD collection
Histopathological evaluation
Biochemical analysis
With extensive experience in the field of hyperlipoidemia, we are confident to help you to overcome any upcoming challenges. Our experts are fully capable of customizing our protocols and assays to meet your specific needs. With our help, we wish to facilitate your research with high efficiency.
Study examples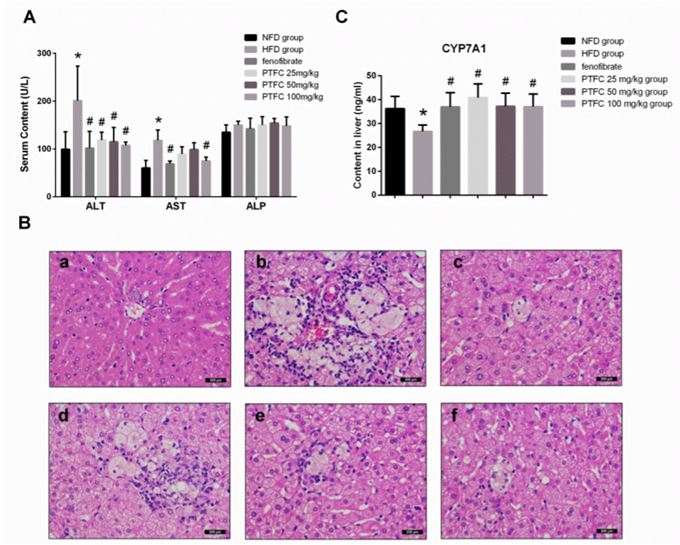 Figure. 1. Effect of PTFC on liver function and hepatocytes pathological damage caused by hyperlipemia. (A) hamsters were treated with NFD, HFD, HFD combined with 100 mg/kg fenofibrate, HFD combined with 25mg/kg, 50mg/kg, 100mg/kg PTFC, and serum ALT, AST and ALP of each group were tested in the end of 6th week before hamsters were sacrificed. (B) Effects of PTFC on the morphology of hepatocytes in hyperlipidemic golden hamsters. (C) Levels of CYP7A1 in liver tissue homogenate of each group were examined by elisa.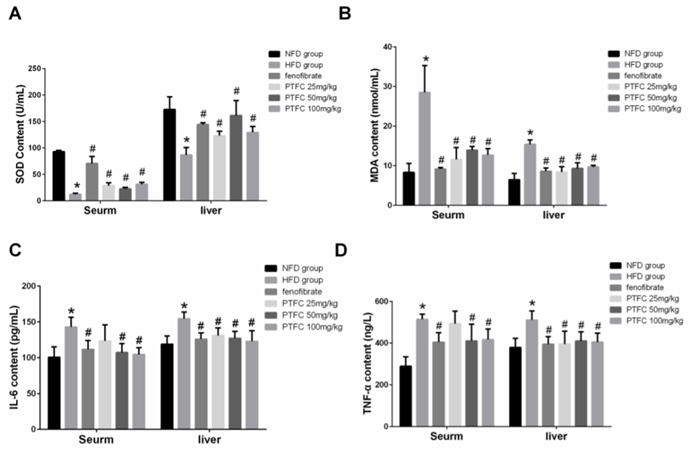 Figure. 2. Amelioration of PTFC on antioxidation activity and inflammation induced by Hyperlipidemia in both liver and serum.
Quotation and ordering
If you have any special needs or questions regarding our services, please feel free to contact us at 631-626-9181 or info@creative-bioarray.com. We look forward to cooperating with you in the future.
Reference
Meng-Jie Zhao, et al. Hypolipidemic effect of XH601 on hamsters of Hyperlipidemia and its potential mechanism[J]. Lipids in Health & Disease, 16(1).
For research use only. Not for any other purpose.