With the discovery of AD-related genes, scientists have created a large number of transgenic animals mimicking hallmarks in human AD through introducing genetic modification of gene of interest. This gene editing approach facilitated AD-related pathological mechanism or screen drugs studies. Mice are most commonly used organism for AD considering they are relatively lower in cost, shorter in life span and easier to manipulate in gene editing. In addition, rats and nonmammalian species such as zebrafish and nematodes can also be used as AD model animals.
Creative Bioarray specializes in providing customized pharmacodynamic research services to help customers assess the efficacy of drug candidates and study the associated pathological mechanisms through transgenic animal models.
Transgenic animal models include but not limited to:
APPSL transgenic mouse model
ApoB-100 transgenic mouse model
TBA2.1 transgenic mouse model
Tg4-42 (TBA83) mouse model
SD- Apptm1sage

Tau (P301L) [JNPL3] mouse

Humanized ApoE2 mouse
Humanized ApoE3 mouse
Humanized ApoE4 mouse
SD- ApoE tm1sage
SD- hApoE4KItm1sage

BDNF transgenic models
Double transgenic models

APPSL x hQC transgenic mouse model
ApoB x APP transgenic mouse model
APPSWE-Tau [TAPP] mouse

Triple transgenic models
Five transgenic models

5xFAD transgenic mouse model
Our Capabilities
Behavioral and cognitive function tests
Histopathology assays
Mechanism/ signaling pathway studies
Biomarkers discovery
Assays available
Learning and memory deficits tests
Synaptic impairment
Oxidative stress
Neuroinflammation
Phosphorylated tau
Glycogen synthase kinase-3 beta (GSK3β)
Neurofilament Light Chain levels
Neuronal loss
β-AP level
Plaque load
β-sheet load
pE(3)-Aβ load
Enzyme activity related to cholinergic system
NMDA receptor function and excitotoxicity
Mitochondrial dysfunction
Brain slice staining and synaptic electrophysiology
Blood brain barrier homeostasis
Cerebral vascular angiopathy (CAA)
With years of hard working and continuous development, as a senior leader specialize in AD research with enormous industrial experience, Creative Bioarray is exceptionally positioned to be your partner. We will make our best efforts to meet your unique requires by providing individually customized service.
Study examples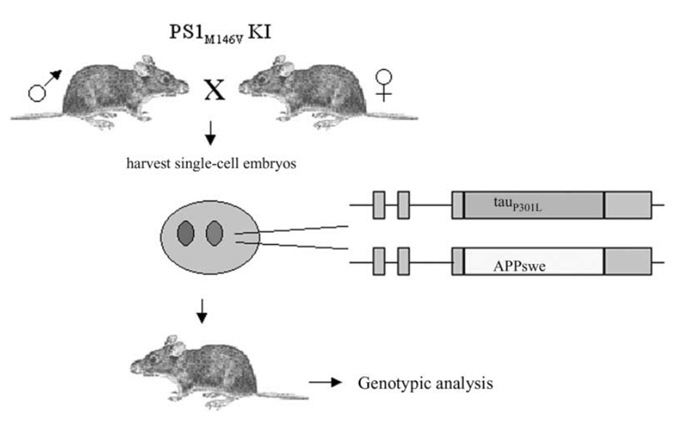 Figure 1. Strategy used to develop 3×Tg-AD mice. Using the pronuclear microinjection technique, we coinjected two independent transgene constructs encoding human APPSwe and tauP301L (4R/0N), both under the control of the mouse Thy1.2 regulatory elements, into single-cell embryos harvested from mutant homozygous PS1M146V knockin mice. The entire mouse Thy1.2 genomic sequence is shown with exons depicted as boxes and noncoding sequences as thin lines. The injected embryos were reimplanted into foster mothers and the resulting offspring genotyped to identify 3×Tg-AD mice.
Quotation and ordering
If you have any special needs or questions regarding our services, please feel free to contact us at 631-626-9181 or info@creative-bioarray.com. We look forward to cooperating with you in the future.
Reference
Oddo S et al. Triple-transgenic model of Alzheimer's disease with plaques and tangles: intracellular Abeta and synaptic dysfunction. Neuron. 2003; 39: 409-21.
For research use only. Not for any other purpose.