Neurofbrillary tangles (NFTs) are neuronal inclusions of the microtubule-associated protein (MAP) tau. Its aggregated and hyperphosphorylated form are considered to be one of the most important histopathological hallmarks of Alzheimer's disease. Transgenic mouse model that express the mutated human tau has been generated to mimic the characteristics of neurofibrillary tangles in Alzheimer's disease. Creative Bioarray specializes in providing customized pharmacodynamic research services to help customers assess the efficacy of drug candidates and study the associated pathological mechanisms through Tau transgenic models.
Tau transgenic models include but not limited to:
Tau (P301L) [JNPL3] mouse
Our Capabilities
We offer Tau transgenic models to screen drug candidates for treatment of Alzheimer's disease.
We provide comprehensive behavioral and cognitive testing on AD model and the drug screening.
We evaluate various biomarkers through WB, IHC, ELISA, sequencing, etc.
Assays available
Learning and memory deficits tests
Synaptic impairment
Phosphorylated tau
Neurofilament Light Chain levels
Neuronal loss
Brain slice staining and synaptic electrophysiology
With extensive experience in the field of AD, we are confident to help you to overcome any upcoming challenges. Our experts are fully capable of customizing our protocols and assays to meet your specific needs. With our help, we wish to facilitate your research with high efficiency.
Study examples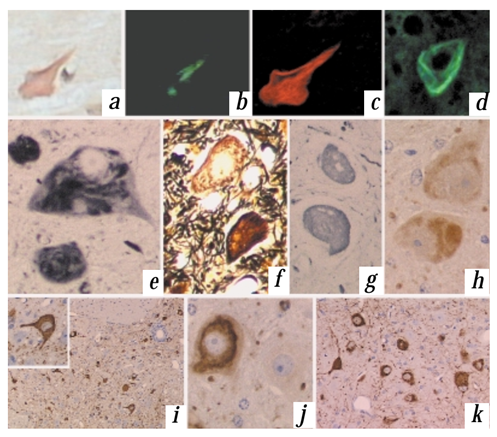 Figure. 1. Characterization of NFT from P301L (JNPL3) mice. NFT stained with Congo red under light microscopy (a), with polarization (b), and under confocal microscopy (c). Thioflavin-S (d) also stained NFT. NFT were positive with Gallyas (e), Bielschowsky (f) and Bodian (g) silver stains. Ubiquitin immunostaining was identified in most NFT (h). Tau hyperphosphorylation was evident from staining with numerous tau antibodies that recognize specific phosphoepitopes including AT8 (i and inset), AT180 (j) and CP13 (k). All sections are from spinal cord except (k), which is from cerebellar dentate nucleus.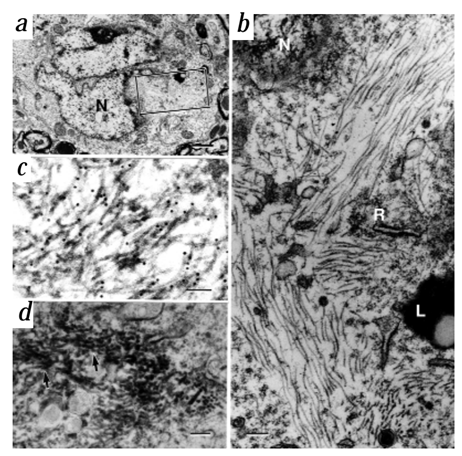 Figure. 2. Electron microscopy of NFT in P301L (JNPL3) mice. a, A neuron with a NFT shows deep nuclear infolding (N) and filamentous cytoplasmic aggregates (boxed area; bar, 1 µm). b, Magnification of boxed area in (a) shows filaments in longitudinal and cross sections. L, lipofuscin granule; N, nucleus; R, polyribosomes. Bar, 0.2 µm. c, Immunogold labelling (CP13) of neuronal filaments (bar, 0.1 µM). d, Immunolabelling of filaments (CP13) with arrows indicating heavy peroxidase reaction product association (bar, 0.2 µm).
Quotation and ordering
If you have any special needs or questions regarding our services, please feel free to contact us at 631-626-9181 or info@creative-bioarray.com. We look forward to cooperating with you in the future.
Reference
Lewis J et al. Neurofibrillary tangles, amyotrophy and progressive motor disturbance in mice expressing mutant (P301L) tau protein. Nat Genet. 2000 Aug;25(4):402-5.
For research use only. Not for any other purpose.