You are here: Home
High-Content Cytotoxicity Screening
High-Content Cytotoxicity Screening
Creative Bioarray offers cell-based high-content cytotoxicity screening. With highly experienced experts in the field of drug discovery, we are able to fully meet your needs in drug toxicity evaluation by simultaneously monitoring multiple toxicity markers such as cell number, cell viability, apoptosis, nuclear change (DNA content, nuclear size and morphology), plasma membrane permeability, intracellular calcium level, glutathione level, oxidative stress, mitochondrial membrane potential (MMP), and cytochrome c release.
Drug toxicity is usually a combined phenotype of multiple mechanisms. Traditional in vitro cytotoxicity assessments as single experimental approaches are not capable of capturing the complexity involved in cellular toxicity. Cell-based high-content cytotoxicity screening, on the other hand, is recognized as a powerful time- and cost-effective alternative approach which can provide multi-parametric information on cellular toxicity using automated fluorescence imaging.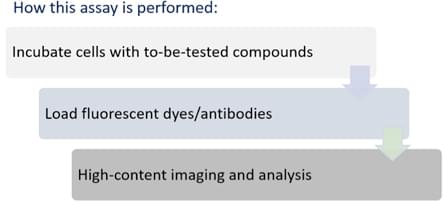 Fig 1. Assay Workflow
In this assay, cells are incubated with a number of toxic or non-toxic compounds at a range of different concentrations, as well as positive and negative controls, followed by relevant fluorescent dye/antibody loading. Cells are then scanned with an automated cell imager to further evaluate the related toxicity indicators. Data obtained will be analyzed by experts to give out information about minimum toxic concentration and dose-response curves.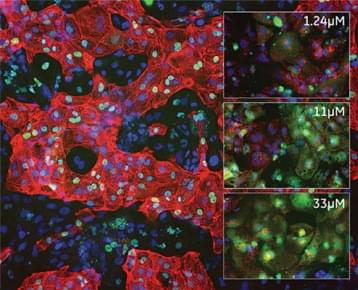 Fig 2. Mitochondrial disruption of human cardiomyocytes exposed to increasing concentrations of an anticancer drug. Red: integrate mitochondrial; Green: calcium homeostasis.
The fluorescent dyes that can be used in the assay include but are not limited to:
Hoechst 33342(361/497)
DAPI(350/470)
calcein AM(495/520)
PI(535/620)
Fluo-4 AM(490/520)
TMRM(545/575)
TMRE549/575)
TOTO-3(642/660)
YOYO-1(491/509)
MCB(380/460)
H2DCFDA(495/527)
DRAQ5(647/681)
Creative Bioarray is well-experienced in cell-based high-content cytotoxicity screening. We are able to adjust the assay according to your needs. If you have any questions or special needs regarding this assay, please feel free to contact us. Let us know your needs and concerns. Our experts will answer your questions as soon as possible and work closely with you to work out a suitable solution especially for you. We look forward to working with you in the future.
References
FA Grimm, et al., "High-Content Assay Multiplexing for Toxicity Screening in Induced Pluripotent Stem Cell-Derived Cardiomyocytes and Hepatocytes". Assay Drug Dev Technol. 2015 Nov 1; 13(9): 529–546.
Pranav Joshi and Moo-Yeal Lee (2015). "High Content Imaging (HCI) on Miniaturized Three-Dimensional (3D) Cell Cultures";. Biosensors 2015, 5(4), 768-790.
For research use only. Not for any other purpose.