Danio rerio (zebrafish) have been used as a powerful tool in neuroscience research and drug screening due to their simple nervous system, small body size, feasible experimental manipulations as well as quantifiable behaviors. Importantly, many AD associated genes in Danio rerio are evolutionarily conservative compare to ours, including co-orthologues to PSEN1, PSEN2 and APP (Appa and Appb). GSK3β plays a crucial role in energy metabolism, apoptosis and cell motility and is abnormally up-regulated in AD pathogenesis. Inhibition of GSK3β activity has been viewed as a potential therapeutic approach for AD.
Creative Bioarray specializes in providing customized pharmacodynamic research services to help customers assess the efficacy of drug candidates and study the associated pathological mechanisms through Danio Rerio models.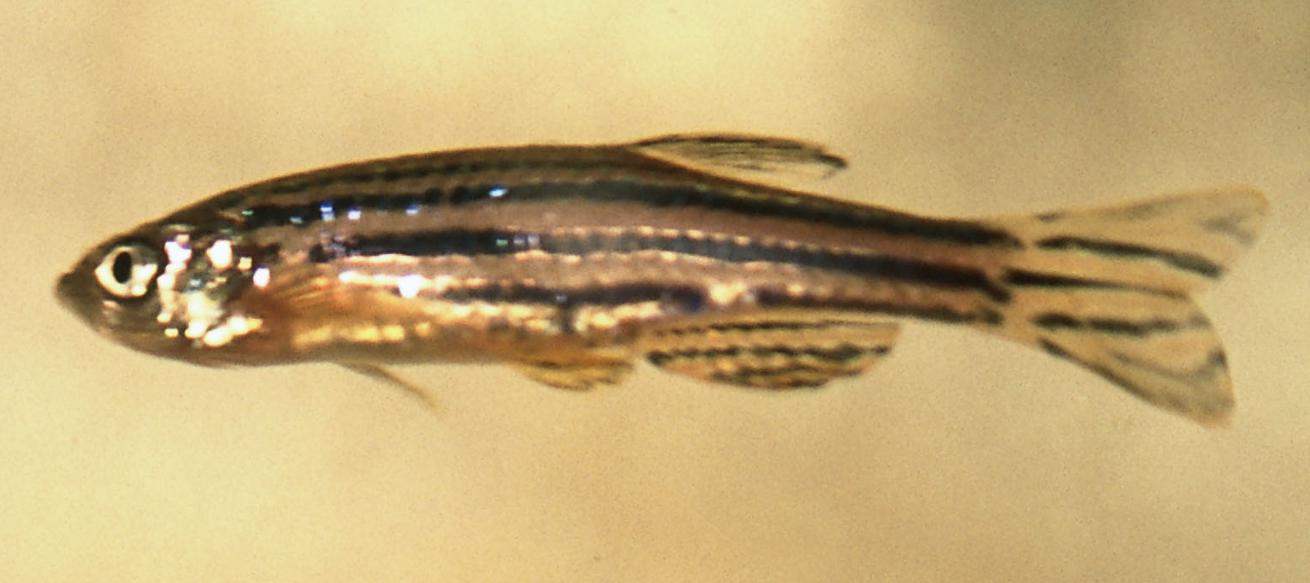 Figure. 1. Danio rerio
Creative Bioarray provides you with Danio Rerio models including but not limited to:
Aβ induced Danio Rerio model
Aluminum chloride induced Danio Rerio model
Our Capabilities
We use Danio Rerio models to screen for drugs targeting GSK3β, cholinergic system and amyloid β-protein to treat AD.
We provide Memory test on Danio Rerio models and the drug screening.
We evaluate various biomarkers through WB, IHC, ELISA, sequencing, etc.
Assays available
Memory test
Synaptic impairment
Oxidative stress
Neuroinflammation
Phosphorylated tau
Glycogen synthase kinase-3 beta (GSK3β)
Neurofilament Light Chain levels
Enzyme activity related to cholinergic system
Creative Bioarray has years of experience in establishing Danio Rerio models. We also provide varieties of services including behavioral testing and molecular marker evaluation to meet your specific needs. We are confident to help you to overcome possible upcoming challenges in your research. With our help, we wish to facilitate your study with high efficiency.
Study examples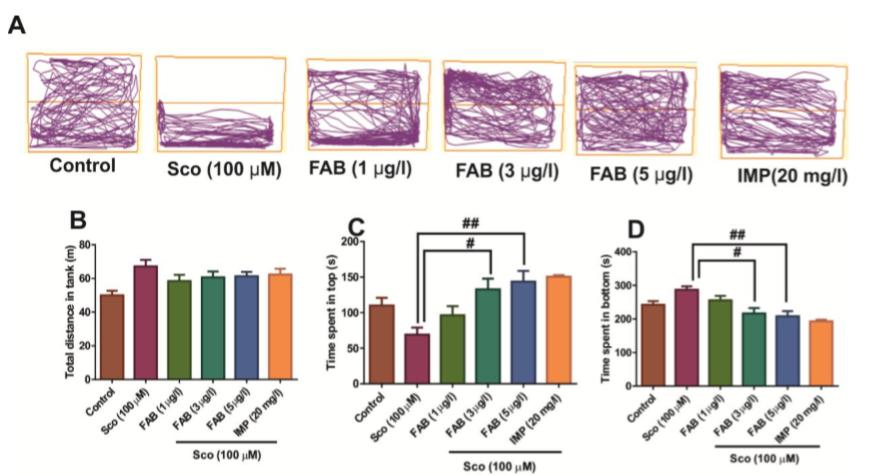 Fig. 2. Agathisflavone (FAB, 1 µg/l, 3µg/l and 5 µg/l) improved locomotor pattern and decreased anxiety in the NTT test. (A) Representative locomotion tracking of the control, Scopolamine (100 µM), FAB (1 µg/l, 3µg/l and 5 µg/l) and IMP (20 mg/l) treated groups. (B) Represent total distance travelled by zebrafish in tank in different groups. (C) Represent the time spent by zebrafish in the top zone of the tank in different groups. (D) Represent the time spent by zebrafish in the bottom zone of the tank in different groups. Values are means ± S.E.M. (n = 20). For Turkey's post hoc analyses: #Sco vs. FAB (3 µg/l): p<0.01 and ##Sco vs. FAB (5 µg/l): p<0.001.
Quotation and ordering
If you have any special needs or questions regarding our services, please feel free to contact us at 631-626-9181 or info@creative-bioarray.com. We look forward to cooperating with you in the future.
Reference
Dumitru G et al. Agathisflavone isolated from Schinus polygamus (Cav.) Cabrera leaves prevents scopolamine-induced memory impairment and brain oxidative stress in zebrafish (Danio rerio). Phytomedicine. 2019 May;58:152889
For research use only. Not for any other purpose.