You are here: Home
Fluorescence In Situ Hybridization (FISH) Protocol
Fluorescence In Situ Hybridization (FISH) Protocol
Fluorescence in situ hybridization (FISH) is a powerful tool used in karyotyping, cytogenotyping, cancer diagnosis, species specification, and gene-expression analysis, which is used to visualize DNA or localized RNAs within cells. Creative Bioarray's excellent FISH technology with cell isolation techniques provides unprecedented analytical accuracy.
Applications
Detection of chromosomal abnormalities
Gene mapping
Idetification of novel oncogenes/ diagnosis of a genetic disease
Species identification
Fluorescence DNA In Situ Hybridization- Assay Work Flow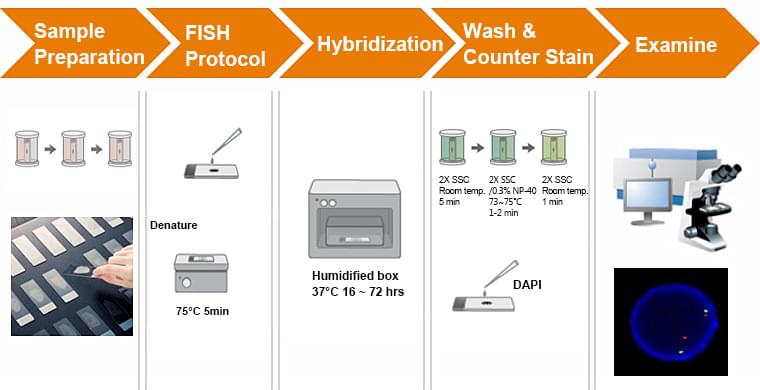 Sample preparation:
1) If test sample is material (cell line, chromosome preparation etc.), it is necessary to fix the preparation for 10 minutes in a mixture of methanol and acetic acid in a ratio of 3:1 after its application onto the microscopic slide (coating, imprint, cytospin). The fixation mixture is always to be prepared just before use. Let the preparation dry naturally after fixation and then we can proceed to Co-denaturation and hybridization.
2) If test sample is paraffin slice, it is first necessary to cut FFPE tissue into 5μm slices on silanized or positively charged glass slides, to bake tissue section overnight at 56°C, deparaffinize and pretreat material.
Co-denaturation and hybridization:
1) Apply the probe in a quantity as to overlay the test sample, and cover with cleaned cover glass. It is necessary to coat the cover glass with suitable rubber cement after gluing.
2) Denature prepared slides at 73±1°C for 1-5 minutes.
3) Incubate over night at 37°C in moist chamber.
Wash off of unbound probe:
1) Unglue the cover glass and immerse the preparation in Washing solution1 (0.4x SSC/0.3% NP-40) heated up to 73±1°C. Slightly shake the glass with the preparation in the solution for about 3-5secs. Incubate for 1min 45secs.
2) Transfer to Washing solution2 (2x SSC/0.1% NP-40), shake again for about 3-5secs, and incubate for 30 seconds.
3) Dry slightly by attaching the edge of the glass to an absorbent pad, and let dry naturally in dark.
4) Apply mounting medium containing DAPI or DAPI antifade (for a cover glass with dimensions of max. 22×22 mm use 10 μl of DAPI). The goal is to stain the nuclei in such a way as to be able to observe them using a fluorescence microscope.
5) Cover using a cover glass and examine using a fluorescence microscope.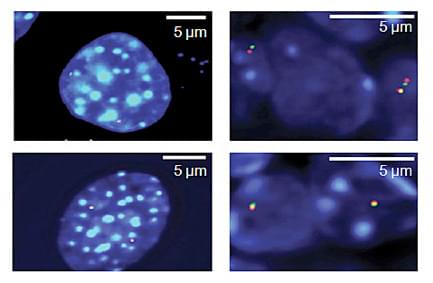 Fluorescence In Situ Hybridization with Hoxd13, GCR gene probe
Creative Bioarray provides services for entire FISH process with unprecedented analytical accuracy, you can find more at: Histology Services
For research use only. Not for any other purpose.